ECB Didn't Discuss Much as Clock Ticks on QE Decision
(Bloomberg) -- European Central Bank policy makers appear in no rush to decide how to set monetary policy in 2019, with their latest meeting notable for the number of topics not discussed.

At his press conference after the Governing Council's policy gathering, President Mario Draghi was asked about how the central bank will reinvest maturing bonds next year, but apparently, the topic didn't feature heavily.
"Frankly, we haven't discussed, and we haven't – as I said last time – we haven't even discussed when we are going to discuss it."
A number of questions yielded a similar response and the briefing – once again – finished earlier than the allotted 60 minutes.
The remark on reinvestments was similar to the one made at the last meeting in July. But while the clock is ticking, Draghi seems pretty relaxed that there's plenty of time yet.
"We have two meetings before year end, so we either discuss next time or in December."
Draghi also said the Governing Council didn't discuss whether it could conduct a so-called Operation Twist – reinvesting at longer maturities. He did say the most important guidepost would still be the capital key, which dictates that purchases reflect the size of a euro country's economy (even though that also wasn't discussed.)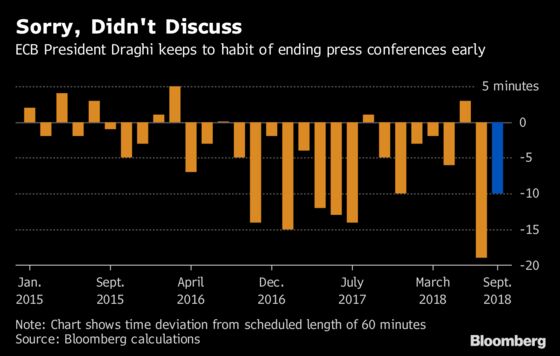 With little insight into asset purchases, Draghi was asked about interest-rate hikes and how the ECB might respond to a slowdown in either growth or inflation. Good questions, said Draghi, but not for today.
"Both questions might be in principle very interesting questions but we haven't discussed that. I'm pretty sure there will be a time when we will have to discuss these questions, but it's premature."
So the gathered press moved beyond the euro area, and to the issue of U.S. fiscal policy. Not discussed in detail, though at least there was some analysis.
"We didn't discuss that to any extent other than saying two things that I can remember of our very short discussion. This fiscal expansion is pro-cyclical. There are dangers that its effects could wane in 2020. The risk there is of an increase in interest rates accompanied by a weakening of economic activity. That's the only point that was briefly discussed in the various presentations that were made about the state of the world economy."
The ECB will publish the record of what policy makers actually talked about on Oct. 11.