Draghi Ups Warning on High Debt Amid Italian Fiscal Tensions
(Bloomberg) -- European Central Bank President Mario Draghi upped his push for governments to keep their debt in check amid concern over the budget plans in Italy.
The Italian, a former governor of the nation's central bank, also hinted that politicians in the ruling coalition have hurt the economy with wild promises and conflicting messages about election pledges and taking steps to keep the deficit in check.
"Words in the last few months have changed many times," he said. "Unfortunately, we've seen that words have created some damage and interest rates have gone up for households and gone up for firms."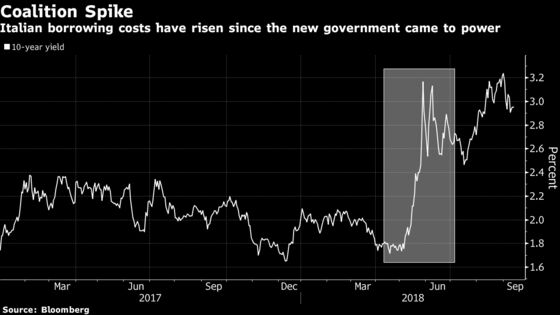 The remarks are effectively an attack on Italy's deputy prime ministers, Luigi Di Maio of the anti-establishment Five Star Movement, and Matteo Salvini of the League. Their comments over the summer have unsettled investors, sowed doubt that the government will keep debt in check and sent bond yields higher.
Speaking in Frankfurt after the ECB's regular policy meeting, Draghi said that once Italy's budget law is drafted and debated in the parliament in Rome, "then savers, capital markets and investors will formulate their view."
Italy, which has a debt-to-GDP ratio above 130 percent, is due to release the economic framework for the budget by the end of the month and submit its full plan to the EU by mid-October. While the government says it will respect European Union limits on budget deficits, some of its promises are costly and could push the debt ratio even higher.
In his opening statement, Draghi repeated a line on the importance of "rebuilding fiscal buffers," but added a new comment. Rather than merely saying that countries would benefit from better policies, he emphasized that there's a need to fully adhere to EU rules.
| September Statement | July Statement |
| --- | --- |
| "This is particularly important in countries where government debt is high and for which full adherence to the Stability and Growth Pact is critical for safeguarding sound fiscal positions." | "This is particularly important in countries where government debt remains high. All countries would benefit from intensifying efforts towards achieving a more growth-friendly composition of public finances." |
Asked about the potential fallout from the situation in Italy, Draghi said policy makers have so far seen no contagion in other parts of the euro region.
"All this hasn't created much of a spillover to other euro area countries," he said. "So it's remained at least so far pretty much an Italian episode."