Draghi Says Solid Euro-Area Economy Weathering U.S. Trade Threat
(Bloomberg) -- Mario Draghi said the euro-area economy is still solid enough to cope with global risks, even with new European Central Bank forecasts showing that growth will cool slightly faster than previously predicted.
"We are observing an underlying strength of the economy that makes us think that the downside risks are going to be mitigated by the improvement in the labor market and rising wages," the ECB president told reporters in Frankfurt. "The major source of uncertainty that we see in global output comes from the rise of protectionism."
Draghi spoke within hours of the Turkish central bank's decision to raise interest rates by the most since Recep Tayyip Erdogan came to power, the latest twist in emerging-market turmoil that has combined with U.S. tariff threats and Brexit to complicate the global economic outlook. While the ECB's growth forecast for the euro zone was cut for this year and 2019, the downgrade is slight and the inflation outlook is unchanged.
| ECB's Sept 2018 Projections | 2018 | 2019 | 2020 |
| --- | --- | --- | --- |
| Economic growth | 2% (vs. 2.1%) | 1.8% (vs. 1.9%) | 1.7% (vs. 1.7%) |
| Inflation | 1.7% (vs. 1.7%) | 1.7% (vs. 1.7%) | 1.7% (vs. 1.7%) |
Draghi said the risks to growth are still "broadly balanced," sticking to language the Governing Council has used for more than a year. Bloomberg reported this week that the monetary committee compiling the new economic forecasts sees the risks as now tilted to the downside. The Governing Council has the right to make its own assessment.
The president spoke after the council confirmed it will slow asset purchases next month and anticipates phasing them out by year-end. Policy makers reiterated their expectation that interest rates will stay at record lows "at least through the summer of 2019." Draghi said the measures as a whole -- including the reinvestment of maturing debt -- will continue to provide support.
"The unanimous view of the Governing Council was that the present monetary policy stance is robust," he said. "Significant monetary policy stimulus is still needed to support the further build-up of domestic price pressures and headline inflation developments over the medium term."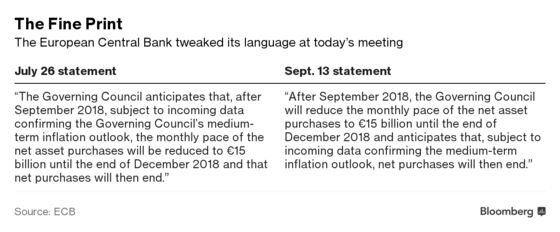 One potential overseas threat to the euro-zone economy took a surprise turn on Thursday. Turkey's central bank raised its benchmark interest rate by 625 basis points to 24 percent. In doing so, it rebuffed Erdogan's call for lower borrowing costs made just two hours before the decision was announced.
In the U.K., the Bank of England upgraded its view of the economy but reiterated that uncertainty about Britain's future after it leaves the European Union has increased.
Draghi was asked about the risks emanating from his native Italy, where the populist government is preparing a budget that could break European Union rules, and where local media have reported that Finance Minister Giovanni Tria might resign.
"Words in the past few months have changed many times -- what we are now waiting for is facts," he said."We have to be aware that the Italian prime minister, the Italian minister of the economy, and the Italian minister for foreign affairs" have "all said that Italy is going to respect the rules."