China's Weakest Housing Markets Flash Red in Cautionary Tale
(Bloomberg) -- You only need to drive an hour out of Beijing to find an example of the Chinese property frenzy gone pear-shaped.
This is the zone with some of the country's worst-performing housing markets, according to research from China Real Estate Information Corp.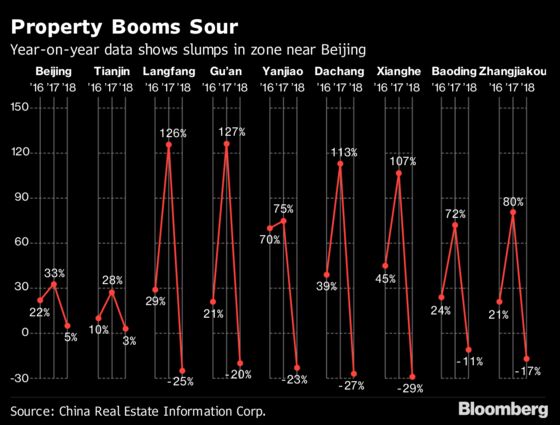 The saga unfolded in a familiar way: people punted on places set to benefit from government policies, prices soared, officials squelched the boom, and late-comers to the party suffered. It's a dynamic that has played out in places such as the tropical island of Hainan -- and may be repeated anywhere investors get a whiff of big plans for a city or a region. Lately, investors have been flocking to Guangdong cities seen as benefiting from regional development.
Langfang, a city of 4.7 million that's south-east of Beijing, is a prime example. Prices boomed from late 2015 on speculation that the city would benefit from plans to move government offices out of the center of the capital to ease congestion. Peaking in August last year, prices have cratered on curbs such as residency requirements for purchasers.
"China's property market in miniature," is the description from Sabrina Wei, Beijing-based head of northern China research at Cushman & Wakefield Inc. "Any economic planning, even just subways, will attract herds of investors. When curbs are imposed, they gradually ditch the market."
In July, Langfang posted the biggest decline of Chinese cities, a 25 percent slide from a year earlier, in research from private data provider CRIC.
In the zone around Beijing, President Xi Jinping's plans for his showcase Xiong'an New Area and longstanding efforts to integrate the capital city with neighboring Tianjin and the province of Hebei have also played roles in driving up prices before subsequent declines.
Casualties include the town of Yanjiao, the counties of Dachang, Xianghe and Gu'an and -- further out from Beijing -- the cities of Zhangjiakou and Baoding.
By comparison, Yichang in central China was the best-performing city in July with prices increasing 48 percent from a year earlier. Values gained in four-fifths of the cities in the CRIC data, including Beijing and Shanghai.