Brussels Edition: Draghi's Downside Risks
(Bloomberg) -- Welcome to the Brussels Edition, Bloomberg's daily briefing on what matters most in the heart of the European Union. 
After an intense few days of political debate, today's all about the economy. European Central Bank President Mario Draghi will explain that risks to euro-area growth have increased. At its first meeting after the summer break, the ECB will blame trade tensions, turmoil in emerging markets and concern about Britain crashing out of the EU  without an orderly deal for its tweaked forecasts. The gloomier outlook won't derail plans to scale back bond purchases next month, though, as policymakers still see inflation edging in on the bank's 2 percent goal.
Trade Woes | A series of meetings planned for today between European Commissioners, EU government envoys in Brussels and U.S. Commerce Secretary Wilbur Ross have been canceled. European officials were informed by the U.S. mission that Ross had to fly back home. The EU sees little chance of relief from U.S. metal tariffs before mid-2019, while it's counting on President Donald Trump not imposing any additional automotive duties, according to a senior official from the bloc.
Submerging Markets | The situation in emerging markets was a key topic of discussion for central bank chiefs at a gathering in Basel last weekend, according to people familiar with the meeting. Economic-policy makers in both Frankfurt and Brussels are keeping a close eye on the impact of the rout. Turkish markets will get tested again today with economists predicting a repo rate increase of 325 basis points to 21 percent.
Remember Madoff? | The EU's top court will rule today on its first case related to the Bernard Madoff scam, involving a fund executive's fight to access confidential files, including those related to UBS Group AG. It's been a decade since the Madoff Ponzi scheme was discovered and over that time a movie and a mini-series have been made on it. Yet many of his European investors are still in the dark and have filed hundreds of lawsuits in Luxembourg, the world's second-biggest fund hub.
Slovenia Laughs | Defying the recent populist tide from Italy to Sweden, Slovenia's parliament is set to approve a minority government backed by parties that shunned the anti-immigrant winner of elections in June. Runner-up Marjan Sarec, a former comedian and regional mayor, who was named prime minister in mid-August, will be sworn in today. His first tasks will include helping appoint a new central bank governor and kick-starting the long-delayed sale of the Alpine nation's biggest bank. 
Poor Macron | Emmanuel Macron's early moves to cut wealth taxes and liberalize labor markets earned him the unwelcome etiquette of "president of the rich." The French leader hopes to counter that reputation and his tumbling popularity today by presenting his long-awaited plan to reduce poverty. In keeping with his mantra of transforming France, much of the program will involve encouraging greater access to education and job training, rather than handouts.
Unlocking Brexit? | The EU is gambling on Theresa May making concessions on the sticky issue of the Irish border after her party's annual conference next month to pave the way for a Brexit deal in November, according to EU diplomats. They're doing that by redrafting the so-called Irish "backstop" to make it more acceptable to Britain. The U.K. team has indicated that it would be ready to make concessions once the Conservative Party conference is out of the way in early October, the diplomats said.
Populist Surge | Both Angela Merkel and Jean-Claude Juncker yesterday warned of the threat posed to Europe by rising nationalism, painting next year's continent-wide elections as a clash of fundamental values that will determine the bloc's future direction. In tandem speeches in Berlin and Strasbourg, Germany's chancellor and the European Commission president struck a common tone of alarm about the risks to the EU's cohesion in the face of increasingly nationalist rhetoric in some member states. 
Battle Lines | Macron's government called the European Parliament vote censuring Hungary's Prime Minister Viktor Orban for undermining the rule of law a first step in the fight against "illiberals" in the region. Although actual sanctions are unlikely, the verdict highlights the clash between pro-EU forces and populists as both sides gear up for the bloc-wide legislative elections. In Budapest, government-friendly media portrayed the vote as revenge by forces opposed to Orban's anti-immigration policies.
Austrian Sides | Austria's conservative-nationalist coalition didn't hesitate to make the most out of the Orban spat. Chancellor Sebastian Kurz used a prime-time TV interview to announce that his party would support the censure and criticize the Hungarian leader, while Vice Chancellor Heinz-Christian Strache took to Facebook to celebrate Orban and invite Fidesz to join the rightest group in parliament. A split in the coalition? Nah. More like playing to their bases on a subject of little domestic consequence.
Copyright Backlash | Tech platforms and internet activists protested the outcome of a European Parliament vote yesterday to back copyright rules that would help video, music and other rights holders seek compensation for use of their content online. Alphabet Inc.'s Google, Facebook Inc. and other tech firms may now be forced to negotiate licenses for content that appears on their sites. If they fail to do so, the companies could actively filter out copyrighted content from what users upload on their platforms, sparking censorship worries.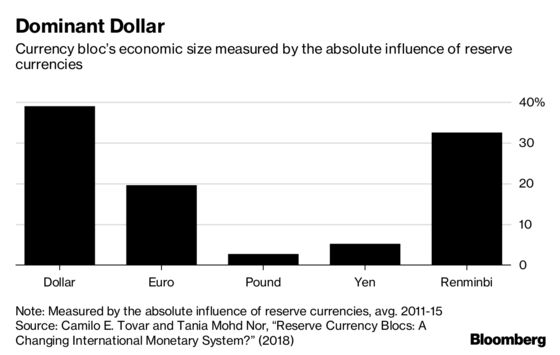 Juncker said in his state of the union address that the commission will present initiatives to strengthen the international role of the euro to make it a major trade currency. Their reasoning: it is absurd that, among other things, European companies buy planes in dollars instead of euros. Juncker's complaints about dollar-denominated contracts are justified, Bloomberg Opinion's Leonid Bershidsky writes.
8:30 a.m. EU interior ministers attend conference on security and migration in Vienna
11:45 a.m. Zoran Zaev, Prime Minister of Former Yugoslav Republic of Macedonia, will address the European Parliament in Strasbourg
1:45 p.m. Press conference by EU Commissioners Vera Jourova, Mariya Gabriel and Julian King on removing terror content online and on securing free and fair elections
2:30 p.m. Mario Draghi gives press conference following ECB Governing Council meeting in Frankfurt
6:30 p.m. Eurogroup President Mario Centeno will speak at the London School of Economics about reforming the euro
Group of 20 trade ministers meet in Mar del Plata, Argentina; EU trade chief Cecilia Malmstrom participates
EU top court rules in cases pending at the Italian courts following decisions by the Italian competition authority to fine Wind Italy and Vodafone Italia for pre-loading features onto SIM cards
EU top court rules in a case concerning U.K. provisional rules applied to Polish nationals following their nation's accession to the bloc
EU lower court rules in a series of challenges brought by Russian banks and businesses against EU sanctions levied in 2014 in response to Russia's actions in Ukraine
EU Budget Commissioner Guenther Oettinger meets Deputy Prime Minister Luigi Di Maio in Rome