Dollar Drops Faster Than a Jamie Dimon Walk-Back
(Bloomberg Opinion) -- Even if Jamie Dimon doesn't see Donald Trump as much of a competitor (words he quickly came to regret), the foreign-exchange market is putting a lot of faith in the president's skills as a dealmaker. Traders sold the dollar and flocked to emerging-market currencies after news broke Wednesday that U.S. has proposed another round of talks with Beijing to avoid further escalating a budding trade war. In short, traders are excited that there are proposed talks about possible talks that may lead to an easing of tensions.   
In many ways, currencies have been the main driver of global markets in recent months. Before dropping as much as 0.58 percent Wednesday, the Bloomberg Dollar Spot Index had been up about 6 percent since mid-April in part on speculation that an escalating trade war and increased tariffs on foreign goods would lead to faster inflation, encouraging the Federal Reserve to keep raising interest rates. Higher rates tend to be good for currencies. The Fed's so-called Beige Book report of current economic conditions released Wednesday signaled that trade tensions are bolstering inflation: "Tariffs were reported to be contributing to rising input costs, mainly for manufacturers." That, in turn, has drawn cash away from emerging markets, causing the MSCI EM Currency Index to drop almost 8 percent as the dollar strengthened. That gauge jumped as much as 0.51 percent Wednesday.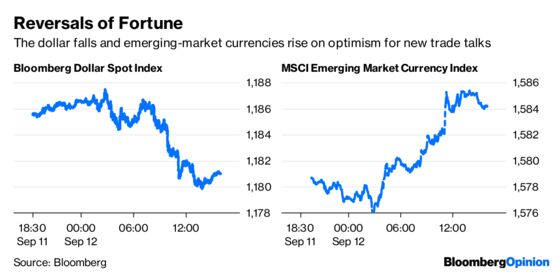 All that money flowing into the dollar has likely helped support U.S. equities, with the S&P 500 Index up about 8 percent this year versus a decline of about the same amount for the MSCI All Country World Index excluding the U.S. Even so, a number of prominent Wall Street firms have warned that perhaps U.S. stocks are bit too strong given the risks. In separate notes published this week, strategists at Goldman Sachs Group Inc. and JPMorgan Chase & Co. issued estimates on the possible hit to earnings, with Goldman chief strategist David Kostin going as far as calling for a bear market under a scenario where the U.S. imposed 10 percent tariffs on all imports, according to Bloomberg News' Lu Wang.
CHINA'S TRADE WAR WOES
The strong performance of U.S. financial assets this year has led many market participants to conclude that America was winning the trade war with China. Wednesday's market moves will do nothing to reverse those notions. After weakening almost 10 percent since mid-April, China's offshore yuan strengthened as much as 0.67 percent on the latest trade headlines. And while U.S. stocks have soared to record highs, the Shanghai Composite Index has dropped about 20 percent this year, closing Wednesday within just half a point of its lowest level since 2014. That has to be concerning for Chinese officials, especially as traders ignored an article in Securities Daily Wednesday expressing support for the market and suggesting value investors should start buying. Bloomberg News reports that many efforts by Chinese officials this year to shore up support have failed to instill confidence. Just three weeks ago, state-backed funds purchased stocks in a move that helped trigger a two-day bounce after the benchmark first dipped below its 2016 closing low. This year's rout in Chinese stocks is nearing $2 trillion, which would be the nation's biggest wipeout of wealth in any calendar year since the global financial crisis, Bloomberg data show.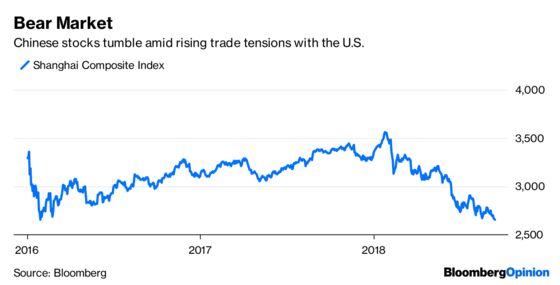 IN THE HURRICANE'S PATH
Hurricane Florence continues to impact the commodities market as it barrels toward the U.S., with North Carolina Governor Roy Cooper warning that "disaster is at the doorstep." The most visible is in the price of gasoline, which is surging as drivers rush to fuel up. Some gas stations in the Carolinas and Virginia are starting to run out of fuel, according to data from GasBuddy, sending prices higher all along the East Coast. Gasoline for October delivery jumped for a second day, rising to $2.0362 a gallon on the Nymex in late trading, the highest level since May. Florence could also greatly affect the pork and poultry supply chain. North Carolina is one of the top producers of chicken, turkey and hogs, according to government data. Packaged food suppliers, including Tyson Foods Inc. and Hormel Foods Corp., have over 300 facilities in the three states, Bloomberg News's Kimberly Yuen reports. Beyond commodities, Bloomberg Supply Chain data shows auto-parts suppliers are one of the most exposed industries in the Carolinas and Georgia, owning 239 production and distribution facilities. One thing to note: It's always hard to get an accurate read on the economic impact of weather events. Recall that Hurricanes Harvey and Irma constrained activity in the third quarter of 2017 and sparked rebuilding later in the year and well into 2018.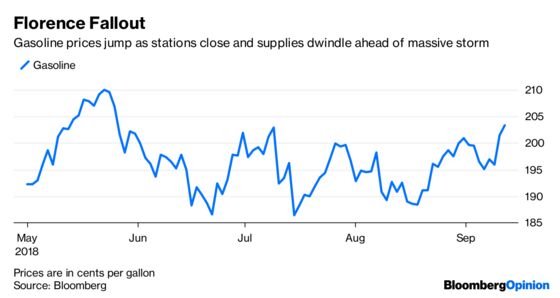 SETTING UP FOR LOSSES
The bond market has its eye on the fast-growing market for securities that protect insurers against losses from events such as hurricanes. As my Bloomberg Opinion colleague Brian Chappatta reported Tuesday, the so-called catastrophe bond market — which transfers the risk of losses from disasters to investors from insurers — has never suffered an annual loss in data going back 15 years, but it has delivered temporary losses. The widely cited Swiss Re Cat Bond Index, which is updated once a week on Friday afternoons, suffered a decline of 16 percent last year during hurricane season that took about nine months to recoup, according to Bloomberg News's Jeremy Hill and Sarah Ponczek. Forecasters estimate that Hurricane Florence could result in as much as $27 billion in damages. Some mutual funds that invest in reinsurance products such as catastrophe bonds are already feeling the impact. The $5.8 billion Stone Ridge Reinsurance Risk Premium Interval Fund fell 5 percent Monday, its biggest one-day drop since Hurricane Irma approached Florida a year ago. The fund, which recovered more than half its losses on Tuesday, provides regular payments to investors but can lose money if storm damage costs are too high.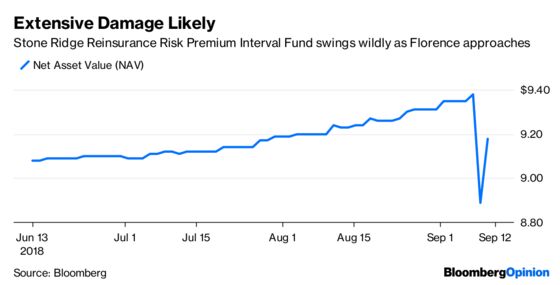 THE COMING RECESSION
For as strong as the U.S. economy is, with gross domestic product expanding at a 4.2 percent annualized rate in the second quarter, there seems to be an awful a lot of discussion about when the next recession will hit. Billionaire hedge fund manager Ray Dalio, the founder of Bridgewater Associates, said in an interview with Bloomberg Television Wednesday that the next downturn is about two years away, which is when he sees the impact of the U.S.'s current tax cut-driven fiscal stimulus beginning to fade. He added that the next recession will be similar to the one in the late 1930's, and will revolve around pension, health-care and other unfunded obligations. It's debatable whether the next downturn will be that bad, but the timing seems realistic based on a Federal Reserve Bank of New York index that attempts to track the probability of a recession in 12 months. The index has jumped to 14.61 percent, which may not seem like that much, but consider that it's been less than half that level or thereabouts since the financial crisis. Also, it's at the same level as it was in mid-2006, which was about 18 months before the last recession.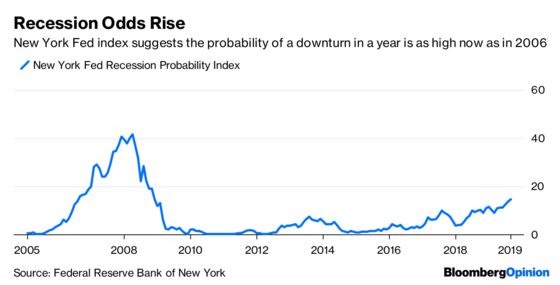 TEA LEAVES
The European Central Bank's monetary policy meeting on Thursday is shaping up to be an awkward affair. On one hand, the Governing Council is expected to give an update on the central bank's plans to wind back stimulus, saying that monthly bond purchases will be reduced to 15 billion euros ($17 billion) from 30 billion euros starting next month, before ending in December. One the other, Bloomberg News reports that the central bank will tweak its forecasts lower for euro-area economic growth as global trade tensions damp external demand. Although the two seem to be at odds, the ECB is likely to reconcile them by pointing to inflation, which policy makers say continues to gather steam. ECB President Mario Draghi's press conference is sure to be a lively affair.
This column does not necessarily reflect the opinion of the editorial board or Bloomberg LP and its owners.
Robert Burgess is an editor for Bloomberg Opinion. He is the former global executive editor in charge of financial markets for Bloomberg News. As managing editor, he led the company's news coverage of credit markets during the global financial crisis.