China Bank Lending Slowed in August as Bond Issuance Surges
(Bloomberg) -- China's broadest measure of new credit expanded as companies issued more debt, though the expansion in new bank loans slowed, showing that banks are still cautious about extending credit and taking on risk.
Aggregate financing stood at 1.52 trillion yuan ($221 billion) in August, the People's Bank of China said Wednesday, compared with an estimated 1.30 trillion yuan in a Bloomberg survey and 1.04 trillion yuan in July
An increase in corporate bond financing supported the larger-than-expected rise, while the shadow banking sector continued to shrink
New yuan loans stood at 1.28 trillion yuan, versus a projected 1.40 trillion yuan and 1.45 trillion yuan last month
Broad M2 money supply increased 8.2 percent, compared with a forecast 8.6 percent
China's credit growth has been sluggish for months as a multi-year campaign to slow debt growth squeezed shadow banking and hurt people's appetite for risk. As the trade conflict with the U.S. intensifies, policy makers have loosened monetary policy and eased regulatory requirements on banks to encourage lending.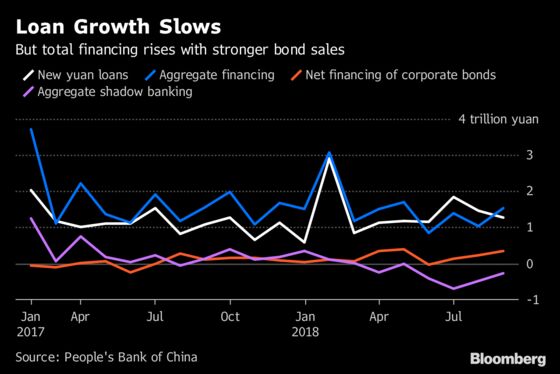 August's credit data is "up arrow overall" but the risk appetite remains low, and the rising bill financing indicates banks are reluctant to lend, while slower M1 growth suggests companies' willingness to invest is low, said Xia Le, chief Asia economist at BBVA Hong Kong. "Monetary policy is in transition to an easier bias. Credit growth will see greater support in coming months."
Sales of short-term bills by non-financial companies surged to the highest since February 2009.
"Bill financing as short-term funding is often used to meet banks' credit quota when the target isn't being met, but its credit expansion in the real economy is less than other forms of lending", Xia said.
What our economists say...
China's monetary data for August came in weak, with the small rise reflecting "smaller-than-expected new yuan loans and continuing declines in the shadow banking sectors."

The data point to the limited impact of the central bank's easing policies so far, and will prompt stronger policy support for the rest of 2018. 
-- Chang Shu and Justin Jimenez, Bloomberg Economics
The amount of money lent via the shadow-banking sector fell by 267.4 billion yuan, according to Bloomberg calculations based on the central bank's data. That was a bit more than half July's decline.
Entrusted loans declined by 120.7 billion yuan
Trust loans dropped by 68.8 billion yuan
Undiscounted bankers' acceptances were 77.9 billion yuan lower
The decline in shadow banking is moderating as the government softened its deleveraging campaign, according to Lu Ting, chief China economist at Nomura International Ltd. in Hong Kong.
The data suggest that government bonds, corporate bonds and formal banking credit have been picking up thanks to an intensive rollout of policy easing and stimulus measures in recent months, according to Lu, who expects more policy easing measures in coming months, including keeping rates on hold if the Fed hikes in late September and a reserve ratio cut cut before the end of the year.