Conservative Economists Question White House's Corporate Tax Cut Claim
(Bloomberg) -- Several conservative economists, including one of President Donald Trump's campaign advisers, disputed the White House's claim that a corporate tax cut Trump signed into law last year has already paid for itself.
Trump's top economic adviser, Kevin Hassett, highlighted economic stimulus from the tax cuts as part of a presentation to reporters on Monday intended to strengthen Trump's claim that U.S. economic growth is due to his policies. "I think that the notion that the corporate tax side has about paid for itself is clearly in the data," Hassett said.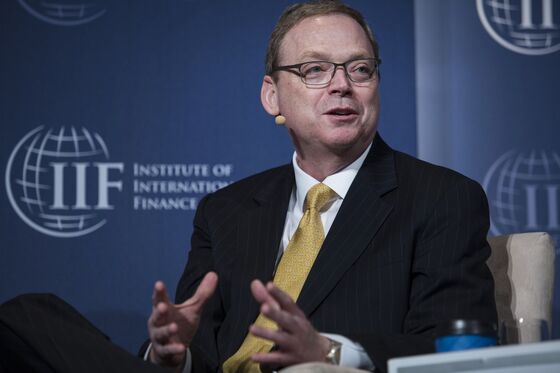 Some of his colleagues disagree. Stephen Moore, an economist at the conservative Heritage Foundation who advised Trump's campaign, said Hassett's claim is "a little premature, because we don't know how long this boom will last."
Kyle Pomerleau, an economist at the conservative Tax Foundation, and Peter Morici, a conservative economist at the University of Maryland, also said Hassett's claim went too far.
Projecting the long-term impact of the GOP tax cuts is difficult because there's little precedent in recent times for such a stimulus when the economy is relatively strong and unemployment is historically low. For example, after the Reagan tax revamp became law in October 1986, the economy expanded for almost four more years, but the jobless rate at the time was 7 percent, compared with 4.1 percent in December 2017.
The question of how much economic growth can be attributed to Trump's presidency and the tax overhaul is figuring prominently ahead of the congressional midterm elections. House Republicans introduced a second phase of tax legislation on Monday to try to boost the law's popularity, while Democrats attack the cuts as a giveaway to wealthy individuals and corporations.
The president erroneously tweeted on Monday that growth in GDP was higher than the unemployment rate for the first time in over a century. The Trump administration has recently promoted false statistics on jobless rates and the stock market's performance as it has touted the president's record on the economy.
Pomerleau said he disagreed with the assessment that corporate tax cuts have paid for themselves already or "that they would pay for themselves at all."
In addition to slashing the corporate rate to 21 percent from 35 percent, the law set up international guardrails to prevent multinationals from funneling profits to low-tax and no-tax havens like Ireland and the Cayman Islands.