Rival Wargames Put World on Edge
It's a perilous time of shifting alliances and mounting international tensions.
China's today joining Russia's biggest military exercises since the height of the Cold War, while NATO is planning its largest drills in years next month in Norway – Russia's doorstep – provoking expressions of alarm in Moscow.
In what the Kremlin describes as growing cooperation "between two allies," Chinese troops will take part in the week-long Vostok-2018 drills in eastern Russia that involve a third of its soldiers. Russian Defense Minister Sergei Shoigu said the exercises will be based on "conditions as close as possible to war."
Russia said its deploying 300,000 troops, 36,000 tanks and fighting vehicles and more than 1,000 aircraft as well as the Northern and Pacific fleets. NATO's drills involve 40,000 troops.
This is all happening amid confrontation between western allies and Russia over Ukraine and U.S. warnings against a looming Russian-backed assault on Syria's last rebel stronghold in Idlib that neighboring Turkey, a NATO member, has warned may turn into "a lake of blood."
With so many forces on the move, the danger is clear: The war games may spiral into something far more deadly.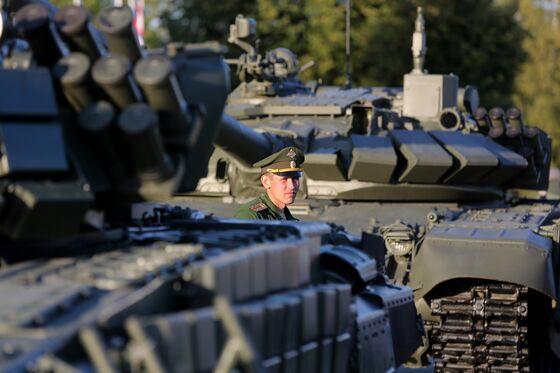 Avoiding shutdown | Republicans and Democrats in Congress said they've reached a deal on the first of several government spending packages intended to avert a federal shutdown Oct 1. The breakthrough comes after House Speaker Paul Ryan and Senate Majority Leader Mitch McConnell met with President Donald Trump last week to try to persuade him to postpone a fight over funding for a Mexican border wall until after November's midterm elections.
Author hunt | The White House has asked the Justice Department to consider identifying and prosecuting the anonymous author of a New York Times op-ed that described a cabal of Trump aides who seek to thwart parts of the president's agenda. Press Secretary Sarah Huckabee Sanders declined to say whether the White House believes the writer committed a crime, but said it would be "problematic" if he or she had been in meetings on national security issues.
Collateral damage | Vietnam's government will use a combination of trade deals and domestic reforms to survive the fallout from a U.S.-China trade war, Prime Minister Nguyen Xuan Phuc told Bloomberg Television's Haslinda Amin. As one of Asia's most trade-dependent economies, Vietnam can't afford to pick sides: "We want to maintain good relations with both the U.S. and China," he said. Vietnam runs a trade surplus with the U.S., putting Phuc at risk of attacks from Trump.
Final appeal | Hungarian Prime Minister Viktor Orban, a figurehead for populist forces across the continent, will make his final plea to European Union lawmakers today as he seeks to avoid sanctions for threatening the bloc's values. The European Parliament holds an unprecedented vote tomorrow on whether to trigger Article 7, which could lead to Hungary being stripped of its vote in the EU. While the sanctions remain unlikely, the vote shows the unease at Orban's self-styled illiberalism, a version of which has also got Poland into hot water with the bloc.
Language war | An increasingly violent secessionist campaign in two Anglophone regions of mainly French-speaking Cameroon is overshadowing President Paul Biya's bid to extend his 35-year rule in elections next month. Biya, who often takes extended private visits to Switzerland, has failed to halt the two-year-old rebellion against the dominance of the French language that's threatening the oil-dependent nation's growing role as a trade hub for its landlocked neighbors.
Trump called off a campaign trip to Mississippi scheduled for Friday in anticipation that Hurricane Florence will strike the U.S. East Coast.

The White House announced it's ready to start planning a second meeting with North Korean leader Kim Jong Un just hours after Trump's top national security adviser said nuclear talks were stalled.

Trump and First Lady Melania Trump are scheduled to attend a memorial service in Shanksville, Pennsylvania, to honor the victims of the Sept. 11, 2001 terrorist attacks.
And finally... China's government is coming up with new ways to win the hearts and minds of Taiwan natives: islanders who live on the mainland will receive identity cards entitling them to free education and other public services. Yet the goodwill gesture comes with a catch: It's all part of China's broad strategy to undermine President Tsai Ing-wen, whose political party officially supports independence.