Jeffrey Gundlach Says Dollar's Next Move May Be Downward
(Bloomberg) -- The next move for the dollar may be weakening, which could bring relief to non-U.S. stocks such as those in emerging markets, according to Jeffrey Gundlach, chief investment officer of DoubleLine Capital.
"I don't think we'll have new highs in the dollar without first seeing new moves to the downside," Gundlach said in a webcast on Tuesday for his Total Return Bond Fund. "We'll probably end with the dollar lower at year-end than it is right now."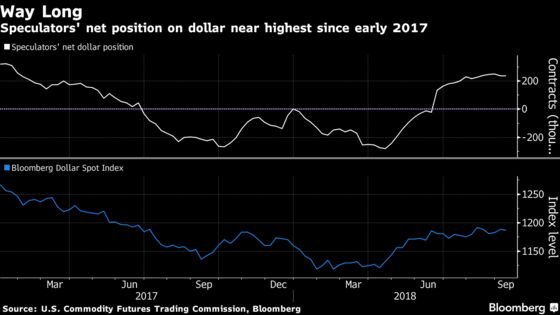 Speculators on the long side may end up wrong, in part because President Donald Trump wants to see the greenback lower, the money manager said. A strong dollar and Trump's threats of a trade war have hurt stocks and bonds in emerging-market countries like Turkey and Argentina, which face higher debt burdens as their currencies depreciate against the dollar. While leading economic indicators show no sign of an impending recession, global markets could face broader problems if emerging-market conditions worsen, Gundlach said.
The $49 billion Total Return Bond Fund, Gundlach's flagship that invests mostly in mortgage-backed securities, returned 0.2 percent this year through Sept. 10, beating 78 percent of its peers as tracked by Bloomberg. It has averaged 3.3 percent annual returns over the last five years, better than 89 percent of rivals.
Los Angeles-based DoubleLine oversaw about $120 billion as of June 30.
In other comments, Gundlach said:
While he doesn't see the U.S. 10-year yield heading as low as 2.25 percent, "what could get you there is a monumental short squeeze, because the speculative short positioning in the 10-year is off the charts"
Bank loans and non-agency mortgage-backed securities are the best types of debt to buy in today's market
Now may be a good time to add commodities to a portfolio, because they usually perform well in late stages of economic cycles
The S&P 500 Index could end the year lower than it started, closing its divergence with other stock markets that have been in the red