U.K. Economy Posts Fastest Growth in Almost a Year on Services
(Bloomberg) -- The U.K. economy grew at the fastest pace in almost a year between May and July, as construction output rebounded and a heatwave boosted retail sales and the powerhouse services sector.
Gross domestic product increased 0.6 percent from the three months through April, the most since August last year, the Office for National Statistics said Monday. That's more than economists forecast and up from 0.4 percent in the second quarter.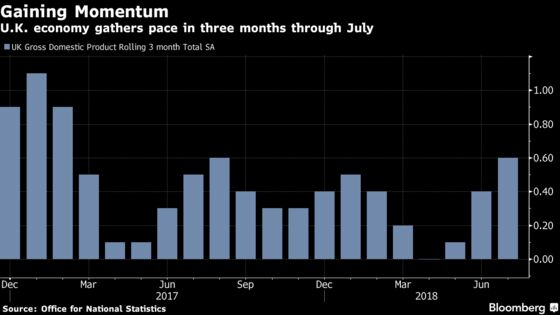 The figures appear to vindicate the Bank of England's decision to raise interest rates last month. Annualized growth in the latest period was 2.4 percent, well above the pace policy makers believe will fuel inflation. The pound edged higher following the figures.
BOE officials, expected to keep policy unchanged on Thursday, have indicated that further modest hikes will be needed to bring inflation back target.
The solid performance in the latest period came as a prolonged heatwave helped the economy rebound from a snow-blighted start to the year.
Construction output jumped 3.3 percent, while services, the largest part of the economy, rose 0.6 percent with retail sales benefiting from the warm weather and soccer World Cup, the ONS said. Manufacturing and industrial production, by contrast, contracted.
A similar pattern was on display for July alone, when economic growth accelerated to 0.3 percent -- more than forecast -- from 0.1 percent in June.
The big question mark over the economy remains Brexit, with economists warning that failure to reach a deal with the European Union could deliver a shock to investment and consumer spending.
Separate figures showed the trade deficit in goods narrowed to a five-month low of 9.97 billion pounds in July, aided by a 2.8 percent rise in exports. The shortfall including services fell to just 111 million pounds.