Turkey, Brazil Enjoy Good News for Their Current-Account Gaps
(Bloomberg) -- The currencies of Turkey and Brazil have fallen far enough to correct their current-account deficits, yet those of South Africa and Argentina may need to decline further, according to a new study by Bloomberg Economics.
Investors are increasingly dumping the exchange rates of emerging markets they view as having flaws in their economies, such as large trade gaps, at a time when the Federal Reserve is raising interest rates and the U.S. dollar is rising.
The relatively good news for Ankara is the lira's slide so far in 2018 is "more than necessary to close the country's wide current-account deficit," Bloomberg Economics economists led by Jamie Murray wrote in a report published on Monday.
The conclusion is based on an analysis of the relationship between currency movements and trade flows. Murray and colleagues reckon the real effective exchange rate, a measure of a currency adjusted for inflation, has fallen 32 percent in Turkey this year, yet only needed to drop 29 percent.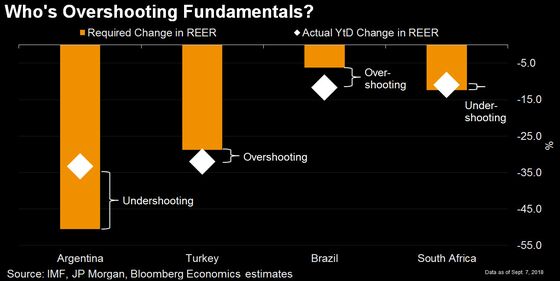 "Policy errors are a likely candidate" for why the lira has dropped more deeply, the report said.
Turkish President Recep Tayyip Erdogan's unorthodox views on monetary policy and the "credibility deficit" among policy makers, including a sluggish reaction by central bankers, are probably to blame for the unnecessary additional pain for the lira, according to the analysis.
Read More: How Bloomberg Economics analyzed overshooting exchange rates
For Brazil, investors have sold the real for factors other than the current-account gap, although it is a "contributing irritant." A weakening growth outlook, yawning fiscal deficit and election uncertainty have pushed the real to a 12 percent decline in real terms, whereas it only needed a 6 percent drop to re-balance the current account.
On the other hand, Argentina and South Africa might still have more to go to close their gaps. Argentina would need a peso drop of 51 percent to erase its deficit, versus its actual inflation-adjusted depreciation of 33 percent so far this year, according to the figures. Aggressive policy intervention has helped mitigate the losses.
South Africa might be enjoying some protection from upbeat business sentiment around the new presidency, while less pricey precious metals could make it more difficult for the rand to depreciate further to close the current-account gap.
In a separate report also published on Monday, a new analysis by Nomura Holdings Inc. concluded Sri Lanka, South Africa, Argentina, Pakistan, Egypt, Turkey and Ukraine are all at risk of an exchange-rate crisis.