HNA's Container Sale Is a Bet on Trump's Trade Wars
(Bloomberg Opinion) -- When a company decides to get out of a market by selling off its assets, is that a good sign for the business in question, or a bad one?
The answer will weigh on potential buyers of Seaco Srl, the fourth-largest lessor of shipping containers. HNA Group Co., which owns the company via its control of Bohai Capital Holding Co., is working with an adviser and hopes to raise $1 billion to dispose of the business, people familiar with the matter told Bloomberg News Monday.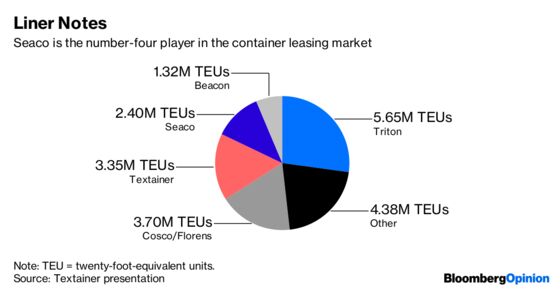 The optimistic argument — that no doubt will be promulgated by HNA's advisers — is that the business is doing uncommonly well and should fetch a good price.
Like their shipping-line customers, the world's container lessors have undergone a wave of consolidation in recent years, which has improved their performance. Triton International Ltd., the biggest player in the market, posted an Ebitda margin of 92 percent in the June quarter and return on equity of 23 percent.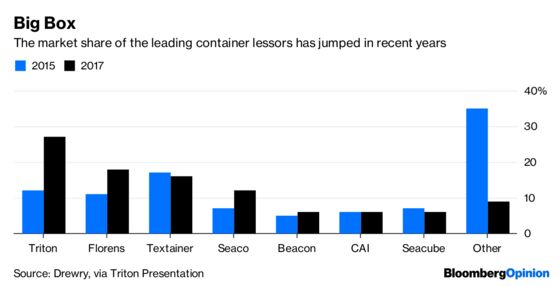 Those who bought stock in Triton and CAI International Inc. two years ago have seen their shares triple in value since, while that of Textainer Group Holdings Ltd. has close to doubled.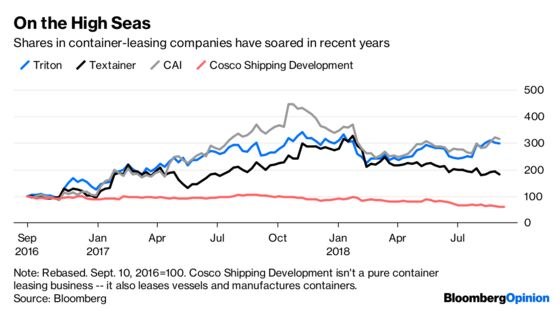 The lessors' container-line customers have been focused on mergers, reducing overcapacity in the market, and managing new rules on sulfur emissions. Many have turned to third parties as owners of their fleets of metal boxes, to avoid tying up their own balance sheets. As a result, almost every container owned by a lessor is under contract to one shipping line or another, with utilization rates running at nearly 100 percent.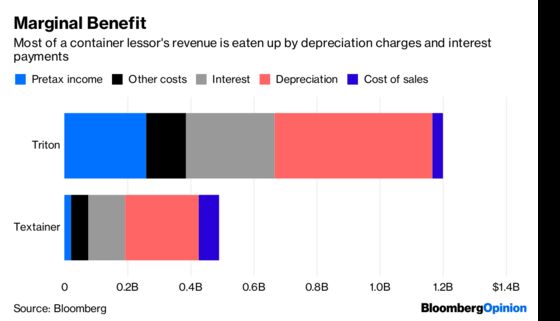 There's a pessimistic view, too. A huge slice of those handsome Ebitda margins gets eaten up by depreciation and interest charges on the way down a box lessor's income statement. Companies tend to be heavily indebted and saddled with a fleet of assets that rapidly wear out, thanks to the bashing they receive being moved around the world.
More to the point, there's the trade war to worry about. Another reason that shipping lines have been such good customers for container lessors recently is that, if there's an absolute downturn in trade volumes, box owners are now shouldering a slice of the risk.
To date, the war of words between Washington and Beijing hasn't amounted to much. Indeed, China's trade surplus with the U.S. hit a record in August. "So far there hasn't been much impact," Triton Chairman Brian Sondey said on an investor call last month. "Everyone really is taking a wait-and-see attitude."
Still, despite the generally healthy numbers, trading volumes are already growing shaky, as we wrote last week. Should President Donald Trump achieve the onshoring of supply chains he's pushing for, those debt-laden companies that assumed trade growth would continue roaring ahead will find themselves in a spot.
Seaco's finances aren't easy to separate from its parent, Bohai Capital, so it's hard to know whether the mooted $1 billion figure is a generous opening gambit or a fair price. Assuming it's meant to represent equity value (enterprise value ought to be considerably higher, by virtue of the size of Seaco's fleet alone) it looks to be on the high side.
Still, the prize may well be an option on further industry consolidation, which could be priceless to the right player. Textainer has mostly missed out on the wave of mergers in the box-leasing industry in recent years, so might see an opportunity to get involved if it could find a way to make the funding work.
Better still would be Florens, the container-leasing unit of state-owned Cosco Shipping Development Co. Buying Seaco would help bail out a prized Chinese business and turn Cosco into the market leader at a stroke. What's not to like about that?
This column does not necessarily reflect the opinion of the editorial board or Bloomberg LP and its owners.
David Fickling is a Bloomberg Opinion columnist covering commodities, as well as industrial and consumer companies. He has been a reporter for Bloomberg News, Dow Jones, the Wall Street Journal, the Financial Times and the Guardian.