Trade War Worries Push Emerging Currencies to 17-Month Low 
(Bloomberg) -- The selloff in emerging markets deepened on speculation that a trade war between China and the U.S. will escalate. Currencies slumped to their lowest level since April 2017 as Goldman Sachs Group Inc. said its models signaled further declines for some developing nations. Stocks also fell.
Brazil's real led losses among its major peers amid intense volatility before a new election poll. The Argentine peso slid after some traders said its recent rally went too far, too fast. Turkish data showing the economy expanded less than forecast overshadowed bets on another rate hike, pushing down the lira. The rupee pared its drop as India said it's considering a plan to tap its citizens overseas after the currency tumbled on gloomy current-account data.
Investors pushed down the value of developing-nation assets as President Donald Trump insisted his trade war with China will spur manufacturing jobs in the U.S., following threats to impose higher tariffs on the nation's goods. The remarks added to the list of concerns for emerging markets as the era of cheap money ends and governments from India to Argentina struggle to restore confidence in their economies.
The situation doesn't get any better from a technical perspective. Some patterns suggest that the rout that has taken the MSCI Emerging Markets Index below its 20-year average valuation has further to run before reaching the point where four major turnarounds in the past two decades began.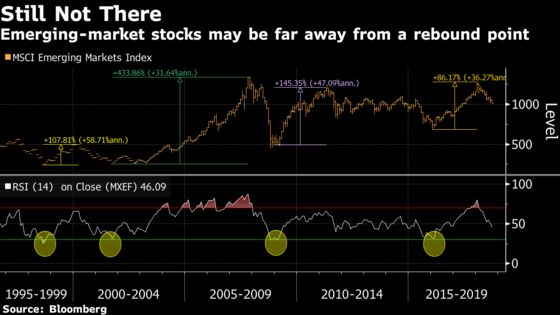 While this year's selloff has pushed emerging-market exchange rates into undervalued territory by at least one measure, they are not yet as cheap as in early 2016, Goldman analysts including Mark Ozerov and Kamakshya Trivedi noted. Back then, the developing world was being battered by a slump in global oil prices.
"Of course, valuations are best seen as a medium- to long-term signal for asset market performance, and are rarely a catalyst in and of themselves to spark stronger performance," they wrote. "Nevertheless a significant cheapening could provide an anchor point for investors who can take the long-term view and a buffer to weather any volatility."
Highlights:
MSCI Emerging Markets Index slid to the lowest since July 2017
MSCI Emerging Markets Currency Index extended its monthly slump
Risk premium on EM sovereigns +5bps to 372bps: JPMorgan indexes
European Parliament debates applying the strongest possible sanctions against Hungary
Russian President Vladimir Putin to meet Chinese President Xi Jinping at the Eastern Economic Forum in Vladivostok
Mexico industrial production
Argentina rate decision
South Africa manufacturing
Hungary CPI
For a list of the day's biggest earnings releases, click here
BRAZIL:

Real declined 1 percent to 4.0942 per dollar
Brazil Poll Will Test Market Resilience After Attack Spurs Rally
Brazil Analysts See Prices Rising Less After Surprise Deflation

MEXICO:

10-year local-bond yield rose to the highest on record
Mexico Aug. nominal wages rose 5.5% year-on-year
AMLO Targets $3.9 Billion in New Oil Investment to Boost Output

Click for market news on ARGENTINA and ANDES
TURKEY:

Lira fell 0.8 percent to 6.4578 per dollar
Turkey's Fast-Paced GDP Growth Shows Signs of Slowdown Ahead
Turkey Masses Troops on Syrian Border, Braces for Refugees

SOUTH AFRICA

9-year local-bond yield rose to the highest in more than eight years
South Africa Recession Adds Risk to Growth, Tax Plans, Nene Says
Last Time the Rand Reached This Milestone, It Rallied for Months

RUSSIA:

10-year local-bond yield flat at highest in more than two years
Russian Economic Growth Revised Higher to 1.9% in Second Quarter
Russian Rate-Hike Bets Are the Highest Since 2014 Crisis: Chart

Click for market news on POLAND and HUNGARY
CHINA:

Hong Kong Stocks Close on Brink of Bear Market as Tech Slides
Chinese Consumer Inflation Rises Further as Producer Prices Ease
China Calls for Controlled 'Tweaks' to Current Monetary Policy

INDIA:

Rupee Tumbles to New Record as India Scrambles to Halt Decline
India Is Said to Ask RBI to Ramp Up Efforts to Soften Rupee Drop

Click for more on markets in ASIA