Chinese Shares Slide Near 2016 Low as Trump's Trade Threat Grows
(Bloomberg) -- Shares in China and Hong Kong declined Monday, with the Shanghai Composite Index slipping to within 30 points of its 2016 closing low as Donald Trump threatened to put even more tariffs on Chinese goods.
The Shanghai benchmark fell 0.9 percent to 2,678.90 points as of 2:01 p.m., moving nearer to its January 2016 closing low of 2,655.66. Apple Inc. suppliers were among the worst performers after the company warned tariffs would affect many of its products and increase costs. In Hong Kong, the Hang Seng Index dropped 1.3 percent -- the benchmark is now down more than 19 percent from its January high and inching closer to entering a so-called bear market.
"While stocks have somewhat priced in possible implementation of U.S. tariffs, sentiment remains cautious due to uncertainty over the impact on China's economy," said Linus Yip, strategist with First Shanghai Securities Ltd. "Beside the tariffs, rising expectations of Fed rate hikes after better employment data are weighing on Hong Kong stocks too, as the city faces greater pressure to increase rates."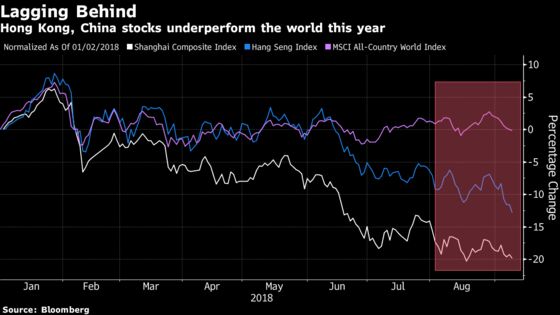 Trump told reporters Friday that he's ready to impose tariffs on an additional $267 billion of Chinese goods, which would take the total amount of levies to more than the value of all goods the U.S. buys from China. Data released over the weekend showed China's trade surplus with the U.S. rising to a record in August, though overall export growth slowed. The former governor of the People's Bank of China told Bloomberg Television that an all-out trade war would hurt stock market sentiment.
The Trump administration is also considering sanctions on Chinese entities caught stealing U.S. intellectual property via cyber attacks, according to people familiar with the matter, highlighting how the administration has been looking at raising the pressure on Beijing via measures beyond tariffs.
Chinese and Hong Kong equity markets are among the worst performing in the world this year, as concerns over trade tensions, a weaker yuan and signs of a slowing economy weighed on investor sentiment. More economic figures released Monday showed China's consumer price index rose 2.3 percent in August versus a forecast of 2.1 percent, while producer prices rose 4.1 percent. August data on retail sales and industrial output are also due this week.
A measure of technology companies slid the most on the CSI 300 Index, with Apple suppliers Luxshare Precision Industry Co. falling 10% and Lens Technology Co. tumbling more than 6 percent. AAC Technologies Holdings Inc. was among biggest decliners in Hong Kong, while Hon Hai Precision Industry Co. fell 3.4 percent in Taiwan.
Tariffs and any relocation of plants to the U.S. would increase costs, while a possible rise of nationalism in China might lead to boycotts of American brands such as Apple, hurting suppliers, said Yeason Jung, an analyst at Capital Futures Corp. in Taipei.
Kweichow Moutai Co. is biggest drag on Shanghai Composite, dropping more than 1%
Midea shares suspended in Shenzhen; co. plans asset restructuring
Sunny Optical -5%, among biggest decliners on HSI despite Citi reiterating buy rating after shipment data
CSI 300 Index falls 1.3%, ChiNext gauge -2.2%