China Inc. Is Hurting for a Tax Cut
(Bloomberg Opinion) -- An escalating trade war, rising oil prices and a bear market in stocks — China Inc. is struggling. A multibillion-yuan windfall from corporate tax cuts might be the only way to revive animal spirits.
Yet Beijing is walking the other way, preparing to break the camel's back.
Starting in January, China's tax offices will collect companies' social-security contributions as part of an effort to crack down on evasion. Only 27 percent of firms pay these obligations in full, Nomura Securities Co. estimates. Popular tactics include hiring more part-time workers and structuring a chunk of a worker's compensation as bonus, neither of which is subject to social-security tax. 
Firms evade these taxes for a good reason — they're too much to bear. In Beijing, for instance, employers must pay 19 percent of a worker's base wage in pension contributions and another 10 percent for medical insurance. This helps explain why China's effective corporate levy is 67.3 percent, the world's 12th highest, according to the World Bank.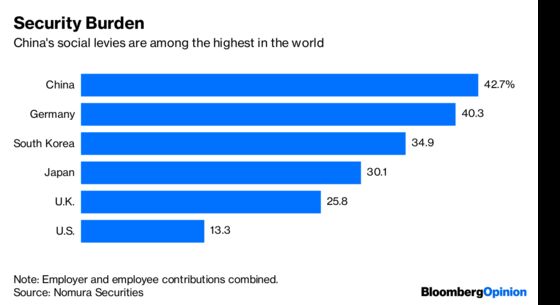 Meanwhile, the trade conflict with the U.S. is starting to show up in earnings. After a brief rebound in the first half, profit margins at China's industrial companies narrowed again. In the last three months, sell-side analysts cut their 2018 earnings estimates for firms in the MSCI China Index by a good 7 percentage points.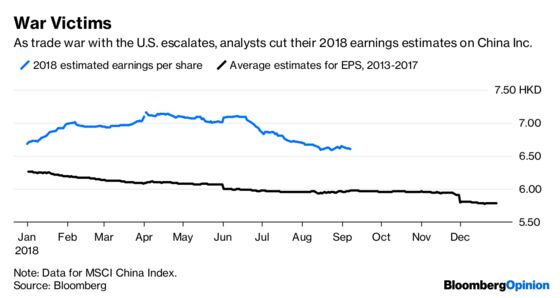 Last week, responding to an outcry by businesses, Premier Li Keqiang said the government is now studying reducing social-security taxes to ensure "there is no increase in the corporate burden," though he gave no details. 
Beijing certainly has room to ease that pressure. It got better at collecting taxes and reined in expenditure in the first half; as a result, the central government was running a surplus until May 31 this year, permitting another 2 trillion yuan ($290 million) of fiscal deficit spending by year-end. The authorities are targeting a fiscal deficit of 2.6 percent of GDP this year, or about 2.38 trillion yuan.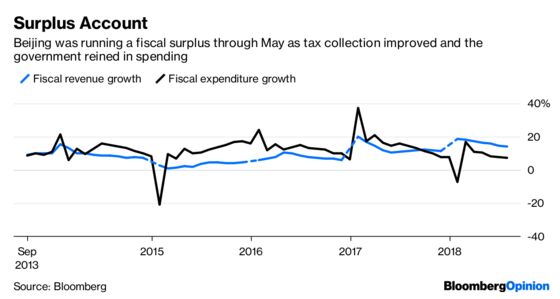 The question is whether there's the political will for lower taxes.
The government seems to be looking harder at redistribution these days. Last month, some Chinese venture-capital funds were abruptly told to pay the full 35 percent income tax instead of a preferential 20 percent rate, though the government has since relented.
Meanwhile, effective next month, people earning less than 5,000 yuan per month will not have to pay income tax, compared with a previous threshold of 3,500 yuan. That tax cut won't help purchasing power, however, in part because most of the savings will go into households' own contributions to social security.
China's stock market is in solid bear territory mainly because of fragile earnings. Flagging consumer confidence aside, companies are grappling with rising costs from raw materials and real estate. A broad-based corporate tax cut would show that Beijing is business-friendly, and may be the only way to bring China Inc. back into the black.
This column does not necessarily reflect the opinion of the editorial board or Bloomberg LP and its owners.
Shuli Ren is a Bloomberg Opinion columnist covering Asian markets. She previously wrote on markets for Barron's, following a career as an investment banker, and is a CFA charterholder.