Central Bank Mettle in Focus as Dollar Saps Emerging Markets
(Bloomberg) -- It was stacking up to be another roller-coaster week for emerging markets, still reeling from a sell-off that drove stocks into a bear market for the first time since March 2016.
Central banks in Turkey and Russia will make key rate decisions, with investors waiting to see how far policy makers will go to defend their weakening currencies. Meantime, the near-fatal stabbing of election front-runner Jair Bolsonaro will remain a focus in Brazil. All that as U.S. President Donald Trump doubles down on his threats to slap higher tariffs on China's goods.
"The results of upcoming event risks in EM will be binary like the development of trade war or the elections in Brazil, which are difficult to predict," said Abhishek Kumar, the London-based sector head for emerging markets, fixed income beta, at State Street Global Advisors. "Should emerging-market sentiment worsen, it is likely that countries with higher current-account deficits will hike."
Listen here: Emerging Markets Weekly Podcast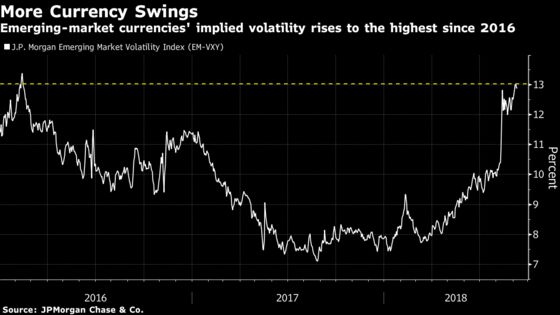 Stronger-than-expected U.S. jobs and earnings growth data Friday increased the odds the Federal Reserve will raise rates, triggering gains in the dollar and Treasury yields. Investors spooked by the roll-back of crisis-era stimulus will look for fresh clues from the European Central Bank's meeting Thursday about winding up its bond-buying program by year-end.
Expected swings in emerging-market currencies climbed last week to the highest level since February 2016, according to a JPMorgan Chase & Co. gauge, while a MSCI Inc. index of developing-nation stocks entered a bear market in its worst week since mid-August.
The Turkish central bank's signal that higher interest rates are in the offing on Thursday has set the bar high, with the lira outperforming all of its peers last week
"The Turkish lira is likely going to be the most-watched EM currency" this week, Stephen Innes, head of trading for Asia Pacific at Oanda Corp. in Singapore, wrote in a note. "Expectations are soaring for the Turkish central bank to raise the interest rate"
Turkey's central bank will probably increase the one-week repo rate by 300 basis points to 20.75 percent, after inflation rose to a new high, according to the median forecast by economists surveyed by Bloomberg
The policy decision will have knock-on effects for high-yielding currencies, including Indonesia's rupiah and India's rupee, said Maximillian Lin, an emerging-markets Asia strategist at NatWest Markets in Singapore

Because investors view Turkey's central bank as "behind the inflation curve," how much it decides to hike can alter the direction for the lira and other emerging-market currencies, he said
The rupiah and rupee are the worst-performing currencies in emerging Asia this year

READ: Inflation Screams Crisis, Policy Response Needed
While all of the economists surveyed by Bloomberg expect Russia's central bank to keep rates on hold at 7.25 percent Friday, traders will be on the lookout for a hawkish turn in its statement
Bonds slid last week after central bank Governor Elvira Nabiullina surprised markets by saying the first interest-rate hike since 2014 could be discussed when policy makers meet on Friday

The new head of the monetary-policy department at the Russian central bank later reiterated that a rate hike would be on the agenda at the policy meeting, but balanced out the message by saying that monetary conditions are already tightening "at a significant pace" in Russia
The Argentine central bank will meet Tuesday for its first rate decision since hiking borrowing costs to 60 percent last month, the highest in the world. The bank has pledged not to cut rates until December
Central bank chief Luis Caputo said Friday that the market was moving toward "normality and calm" after the bank started selling dollars directly into the market, rather than through auctions
For Argentina, the interest-rate decision is less important than progress on IMF loans, said Lin at NatWest Markets

"Unlike Turkey, Argentina's central bank has been much more proactive in hiking rates"

Investors will need to brace for inflation figures on Thursday, which will show the impact of this year's slump in the peso
Brazilian markets are likely to rally on speculation that the stabbing of Jair Bolsonaro will boost the popularity of the right-wing presidential candidate
Bolsonaro is in stable condition after the attack Thursday and all eyes will be on news of his recovery
While he's a divisive figure in Brazil for his views on immigrants and homosexuality, Bolsonaro's free-market credentials have been welcomed by investors. The Ibovespa stock index extended gains for a second day on Thursday before his stabbing, rising 1.8 percent. Friday was a public holiday
With the possibility of additional tariffs on Chinese exports to the U.S. looming, close attention will be paid to data this week that will indicate how Asia's largest economy is holding up
China's consumer inflation quickened for a third month in August to 2.3 percent from a year earlier, while produced prices eased to 4.1 percent, data unveiled on Monday show. Industrial production, retail sales and fixed-asset investment figures will be released Friday
Trump threatened tariffs on an additional $267 billion of Chinese goods Friday, on top of the proposed $200 billion that Washington is already preparing to implement

China will be forced to retaliate if the U.S. goes ahead with tariffs on more Chinese goods, Gao Feng, a Ministry of Commerce spokesman, said last week in Beijing
"A worse-than-expected outcome would likely lower expectations for Chinese growth and result in a pullback from risk assets in general," Goldman Sachs Group Inc. strategists including New York-based Zach Pandl wrote in a report. Betting on the Japanese yen's gains versus South Korea's won "is the ideal tail-risk hedge given current market conditions," they said

The nation's trade data for August released Saturday echoed both the cause and effect of the standoff with the U.S. -- the surplus with the U.S. rose to a record, while overall export growth slowed
Indian inflation data for August and industrial production figures for July are due Wednesday. Wholesale prices for August will be released Friday, while trade data will come at some point between Wednesday and Saturday
South Korea will release unemployment data on Wednesday
Philippines trade figures are due Tuesday
In Hungary, investors will be watching August inflation data on Tuesday for confirmation that price growth peaked in July and is set to return closer to policy makers' 3 percent target; the forint was the best-performing developing-nation currency after the lira last week