U.S. Workers Win Bigger Pay Gains by Becoming More Productive
(Bloomberg) -- U.S. workers may be finally getting a pay raise -- and perhaps more importantly, they're earning it by becoming more efficient.
Average hourly earnings for private workers increased 2.9 percent in August from a year earlier, the most since the recession ended in mid-2009, the Labor Department said Friday. The gains were broad-based, ranging from manufacturing to retail.
The fatter paychecks coincide with rising worker productivity. Friday's jobs data suggest that the jump in output per hour worked seen last quarter was no fluke and laborers are earning their raises by being more proficient.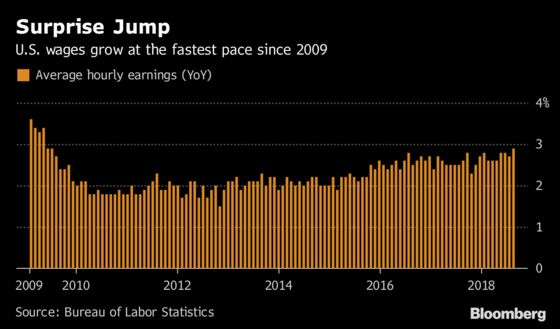 "The long-awaited improvement in productivity growth has finally arrived, at least for now," Gad Levanon, chief economist for North America at the New York-based Conference Board, said in an email.
That's good news for the economy. Stronger productivity allows companies to pay their workers more and maintain profit margins without having to raise prices. That means gross domestic product can grow faster without generating higher inflation and that the Federal Reserve can remain patient in raising interest rates.
It also means that the rise in companies' wage bills may not be bad for the stock market, according to Neil Dutta, an economist at Renaissance Macro Research LLC in New York.
He sees the economy growing at a 3.5 percent annual clip this quarter, after expanding 4.2 percent in the April-June period. Economists surveyed by Bloomberg project a 3 percent third-quarter expansion.
With aggregate hours worked essentially flat over the last two months, that implies productivity will again be strong in the third quarter while unit labor costs will be soft, Dutta said in an email. That's good for companies' bottom lines.
Output per hour worked rose at a 2.9 percent annual pace last quarter, the fastest in more than three years, while unit labor costs fell 1 percent, according to Labor Department data.
The big gain in worker efficiency last quarter was well above the 0.9 percent average annual rise from 2013 through 2017. Economists have pointed to that sub-par performance as a major reason why companies have been reluctant to grant workers bigger raises.
The productivity pick-up is no surprise. The economy has been juiced by President Donald Trump's tax reductions and by stepped-up government outlays while companies are having trouble finding the extra workers they need to keep up.
"We're going to see a revival in labor productivity growth over the next two years as the stimulus from tax cuts and higher government spending boost output more than it is possible for the growth in labor input to increase," Robert Gordon, an economics professor at Northwestern University in Evanston, Illinois, and an expert on productivity, said in a recent interview.
Levanon said the increase in both wages and productivity is being driven by labor-market tightness. Not only is it forcing companies to pay workers more, it's also providing "a further incentive to businesses to raise productivity," he said.
The unemployment rate held at 3.9 percent last month, near a multi-decade low and below the level that many economists reckon is equivalent to maximum employment.
"We're at or near full employment, or past it," Dallas Fed President Robert Kaplan told Fox Business Network Friday. He said he favors raising interest rates until they reach a neutral level of 2.5 percent to 2.75 percent that neither spurs nor restricts economic growth.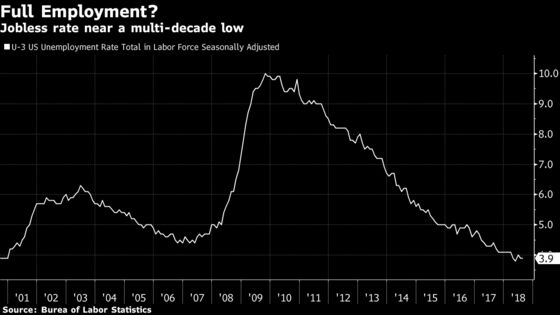 The central bank currently has a 1.75 percent to 2 percent target range for the overnight federal funds rate. It's widely expected to lift that another quarter percentage point later this month.
A key question is how long the strength in productivity will last.
Trump administration officials argue that a combination of lower taxes, eased regulation and better trade deals will make the economy more efficient and lift annual growth to a permanent plateau of 3 percent.
That compares with an average 2.2 percent pace from the start of the expansion through the end of 2016, before Trump took office.
"We are in an economic boom," Larry Kudlow, director of the White House's National Economic Council, told Bloomberg Television on Friday. "The paychecks are getting fatter."
Fed officials, though, don't seem to be buying into the administration's rosy outlook. They peg the economy's long-run cruising speed at 1.8 percent per year, according to the median projection of policy makers released in June.
There are also nagging worries that the spurt in the economy will prove to be temporary because it's being driven by an increase in the government's budget deficit to more than $1 trillion in fiscal 2020, according to Congressional Budget Office projections. The shortfall was $665 billion in the year that ended Sept. 30, 2017.
"I worry that if you have too fast growth and too much leverage fueling that growth that you do have to pay that back at some point," Michael Collins, a senior portfolio manager at Newark, New Jersey-based PGIM Fixed Income, said in a Bloomberg television interview Friday. "But right now, it feels good."