Italy Vows Small Budget Improvements, Expects Positive EU Talks
(Bloomberg) -- Italy's finance minister offered the European Union a token concession by saying that can set a budget that will lower the nation's debt burden and improve its structural position, without saying if he'll meet all European Union requirements.
Giovanni Tria met with top European Commission officials in Vienna on the sidelines of a summit with EU finance ministers, and told reporters afterward that he expects a "good" outcome in talks with Brussels over his nation's spending plans. He said he has room for maneuver because he sees signs that Italy's economic slowdown is easing.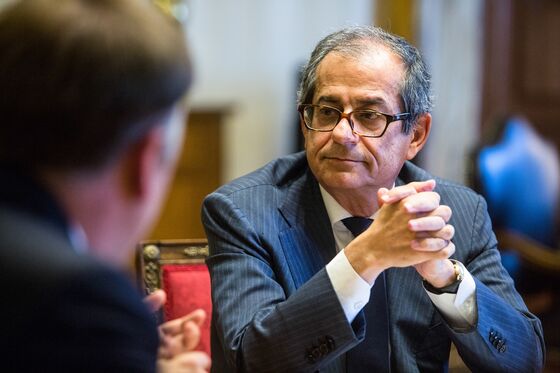 "We kept talking of a budget that will allow for a reduction in the ratio of debt to gross domestic product," he said. "The line between a worsening and an improvement in the structural budget situation is so thin that of course we will have an improvement, because we are dealing with data that are in the order of zero-point-something."
Italy has been at the epicenter of euro-area financial volatility this year after euroskeptic parties rose to power in Rome, and investor concern about their policies led to a meltdown in the country's bonds in late May. The government is due to submit its budget for EU approval in just over a month.
On top of a requirement for a headline deficit of less than 3 percent of economic output, the EU demands that Italy cut spending this year and next to reduce its debt pile, making a so-called structural effort in 2019 equal to 0.6 percent of its GDP. A budget that would signal a fiscal expansion, instead of tightening, would probably lead the commission to declare that the country isn't compliant with its obligations.
Tria stopped short of giving any clues to the headline deficit the government intends to target, citing the need to wait for fresh economic data later this month. The latest signals on the economy are "a little bit more comforting," he said without elaborating.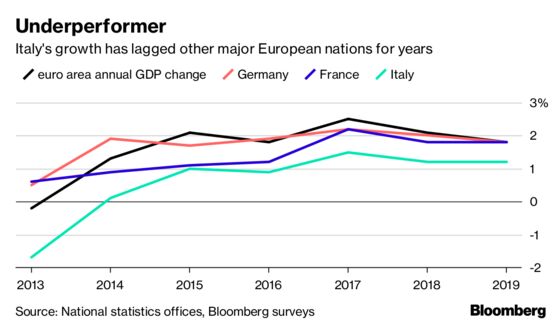 In his meetings with the officials, Tria -- one of the more moderate voices in the populist coalition's cabinet -- said that Italy's budget plans would not deviate from the path of fiscal prudence. He told his counterparts that he doesn't intend to go beyond limits set out in EU rules, according to people familiar with the discussions.
European Commission Vice President Valdis Dombrovskis said at a press conference in Vienna that Tria "assured me that currently the budget which is under preparation foresees improvement on the structural balance," He added that the plan "would put public debt clearly on a downward trajectory."
Tria also met with EU Commissioner Pierre Moscovici, who said on Twitter that he was working with Italy to keep its commitments to the euro area.
The finance minister and the two commissioners "shared a view: measures for economic growth in compliance with rules and improvement of #public finances," the Italian finance ministry commented in a Twitter post on Friday.
An EU official familiar with Tria's meetings said that the Italian government has been made aware that it is required to tighten fiscal policy rather than simply refraining from loosening it too much. Tria was reassuring without giving too much detail, the official said, asking not to be named as the meetings weren't public.
Italian party leaders heading the coalition government -- and the academics appointed as ministers to referee their tussles -- have been sending contradictory signals about how far they'll push next year's budget deficit as they try to square ambitious election promises including tax cuts and a new income-support tool with the reality of Italy's mountainous public debt.
On Friday, Italy's 10-year bonds posted the biggest weekly gain in almost three months after Tria reassured investors that the 2019 budget won't breach the EU rules.
"It's apparent that for some time the markets haven't believed in the official declarations of the government members," Tria said in Vienna. "Luckily, it is no longer the time for declarations, rather for action and thus we see optimism in the financial markets."