Italian Business Is Starting to Get Comfortable With Populism
(Bloomberg) -- Italian executives are coming to terms with populist rule.
As business leaders gathered for an annual conference on the banks of Lake Como in the north of the country, most expressed confidence that the reality of governing is knocking the sharper corners off of the policy plans that the anti-migrant League and the eclectic Five Star Movement had demanded before their March 4 election victory.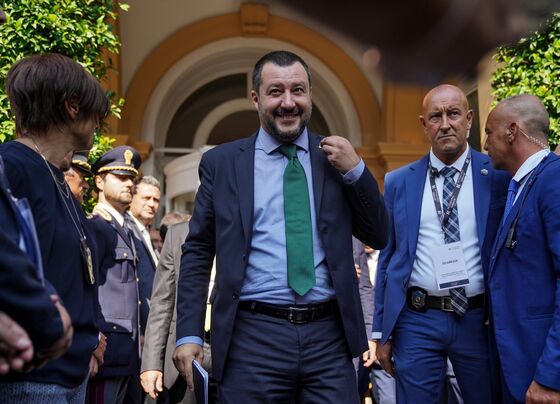 "There seems to be a return to reality on the part of the two parties in the government," Walter Anedda, the Rome-based president of CNPADC, which manages an 8-billion euro ($9 billion) retirement fund for Italy's 60,000 tax lawyers, said at the annual Ambrosetti Forum. "Because of simple math, they have to dial back their promises a bit in order to govern."
Big business was never a supporter of the anti-establishment parties that came out on top in March. The rich city centers of Milan and Rome were among the few areas to vote for the outgoing center-left government and the head of the Confindustria business lobby has harshly criticized the new government's contempt for orthodox budget policy and the European Union.
Since taking power in June, the coalition has sent conflicting signals about whether it would respect the budget plans Italy had previously agreed with the EU.
While the non-political academics who hold key spots such as prime minister and finance minister have assured their European colleagues that Italy would respect those deals, deputy prime ministers Matteo Salvini of the League and Luigi Di Maio of Five Star have periodically said that their campaign promises of hefty tax cuts took and more benefit spending must take precedence. Italian bond yields soared in reaction.
Last week though, both toned down their rhetoric.
Salvini told financial daily Il Sole 24 Ore that the government is working on a three-year time frame and won't do everything immediately. Di Maio said that introducing some elements of their promises and containing the deficit isn't mutually exclusive.
"I expect the budget to be within European rules," said Gian Maria Gros-Pietro, chairman of Italy's second biggest bank Intesa Sanpaolo SpA, who dismissed earlier comments from Salvini and Di Maio as noise. "When investors realize the real situation, the spread will decrease."
Developments in Italy are put into context by the political upheaval in other leading western economies, with Britain struggling to navigate is exit from the EU and the U.S. beholden to its unpredictable president, Donald Trump.
"I don't worry about Italy that much," said Francesco Starace, chief executive officer of Europe's biggest utility Enel SpA. "Italy is in a transition, but looking at the world overall, it's not that bad."
The difference between the yield on Italian and German 10-year bonds was less than 150 basis points in mid-May, when a League-Five Star government started to emerge, and widened to a five-year high of 291 basis points in late August. It ended last week at 265 after Salvini's more reassuring comments.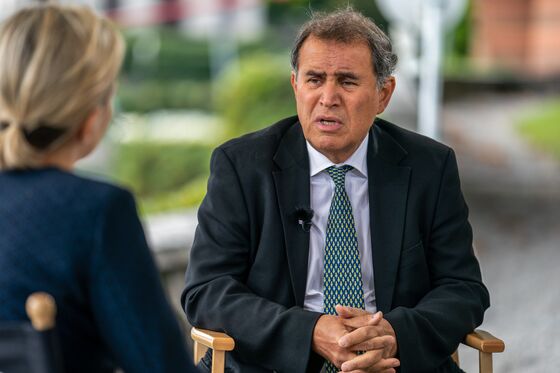 "This new government promised the moon, but when the spread rose to about 300 they panicked," Nouriel Roubini, chief economist at Roubini Global Economics, said at the conference in Cernobbio. "On the one side they promised a lot and have to deliver, on the other there is the deficit constraint"
The administration ousted in March had projected a shortfall of 0.8 percent of GDP for next year, but Finance Minister Giovanni Tria sees next year's gap rising to at least 1.5 percent of gross domestic product, newspaper La Stampa reported Thursday. Il Messaggero said he may allow it to reach 1.8 percent.
Salvini at one point had talked about reaching the 3 percent deficit limit imposed on countries in the euro zone. While Italy is well within that limit, the EU has pushed for narrower deficits to bring down Italy's debt, which at 130 percent of GDP is the largest in Europe in absolute terms.
Part of the confidence of business leaders is that Italy's economy has continued to grow. It expanded 0.2 percent in the second quarter, below the European average but still matching France.
"The famous spread may go up and down, but we are hiring, we are growing, our clients are hiring and are growing," said Walter Ruffinoni, Milan-based CEO of the Italian unit of Japan's NTT Data, which has more than 300 million euros in revenue in Italy out of a worldwide total of 10 billion euros. "We are growing just as fast in Italy as elsewhere."