Telecom Merger, Tech Selloff, EM Pain: A Week in China's Markets
(Bloomberg) -- The emerging-market selloff spreads across north Asia, China considers combining two telecom behemoths, and Hong Kong gets ready for yet another giant IPO. Here's a roundup of what we've been talking about in China markets this week.
Emerging markets tumbled into a bear market in what's becoming an indiscriminate sell-all kind of mindset. China's biggest companies were caught in the selloff even though a strong dollar and rising U.S. interest rates will have virtually no impact on the country's debt burden or economic growth. But if you're a U.S. investor fleeing EM, it's likely you're dumping China too: the nation's stocks have the largest weighting on MSCI Inc.'s developing-economy benchmarks, tracked by about $2 trillion worth of funds globally.
We're hearing most investors are staying on the sidelines for now, even though they say this has made some decent companies look cheap. The dearth of buyers and the love for cash means the rout may get even worse, and nobody wants to be caught playing the value trade too soon.
China has studied the idea of merging China Telecommunications Corp. and China United Network Communications Group Co., two of its largest wireless carriers. Analysts said that while sharing the spending needed to roll out 5G networks would make a lot of sense, other cost savings would be relatively limited. The companies wouldn't really be able to fire workers and their existing frequencies operate on different (incompatible) technologies.
The prospect of a merger sent shares in newly-listed China Tower Corp. tumbling, as a potential duopoly would imply fewer tenants for the phone-tower operator. Industry leader China Mobile Ltd. actually rose on the news, as less competition = less pressure from regulators on telecom tariffs.
Burning cash
Get ready for another Hong Kong IPO. Meituan Dianping, one of China's food-delivery companies, started taking orders to raise as much as $4.4 billion. It's burning cash in an aim to grab a larger share of a very competitive market, and Meituan warned that it can't guarantee it will ever become profitable. While it's been a hot year for new listings in Hong Kong, weak sentiment and concerns over valuations have hindered performances after the start of trade.
Meituan expects to take investor orders through Sept. 12 and price the offering that day. Trading is expected to start Sept. 20.
An index of China's tech giants had one of its worst weeks since 2014 -- the worst was in March after Tencent Holdings Ltd.'s first earnings shocker. Traders are pulling out of the market and fleeing the world's most crowded trades, which has been particularly rough for Hong Kong's Hang Seng Index, nearing its first bear market since China's bubble burst about three years ago. Tencent was on track for a slump of around 8 percent this week, testing the HK$330, HK$320 and HK$310 support levels in quick succession.
A big story in China was the arrest of JD.com Inc.'s billionaire chief executive officer for alleged rape. Though he hasn't been charged, the U.S.-listed Chinese online retailer fell by a record 11 percent. Liu Qiangdong has since returned to China, which has no extradition agreement with the U.S.
This chart shows that while China is ramping up spending in high-tech industries, the returns on those investments are still lagging. The nation's companies file fewer patents relative to the dollar amount spent on research, according to Bloomberg Economics research.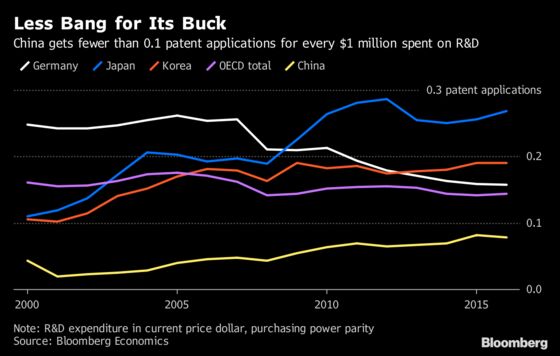 Here's what else caught our eye.
The new hot thing for China's savers is really boring.
Wealth managers are getting crazy pay hikes in Asia.
Hong Kong is where the most ultra-rich people live.
Sales of panda bonds are booming.
Flipping Hong Kong offices is a profitable business.
Tariffs will hit U.S. shoppers harder than the Chinese.
China drained funds from the short-term money market.
Bans on pork products from China may be widened.
It might be time to buy convertible bonds.
Chinese firm wins bid for a Canadian copper producer.