India's Current-Account Gap Widens on Yawning Trade Deficit
(Bloomberg) -- India's current-account deficit widened in the April-June quarter from a year ago, on account of a larger trade gap.
The $15.8 billion shortfall may still offer relief to the nation's battered rupee, Asia's worst-performing major currency so far this year, as it was less than the $17.3 billion median estimate in a Bloomberg survey.
The shortfall represented 2.4 percent of gross domestic product, worse than January-March's 1.9 percent of GDP, the Reserve Bank of India said in a statement in Mumbai on Friday. It was at $15 billion during the same period last year, or 2.5 percent of GDP
The widening of the CAD on a year-on-year basis was primarily on account of a higher trade deficit at $45.7 billion as compared with $41.9 billion a year ago, the RBI said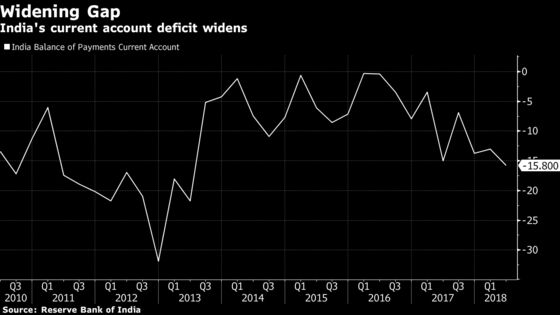 The trade deficit blew out on the back of higher crude oil prices and strong demand for non-crude oil, non-gold imports amid a domestic recovery, according to Teresa John, economist at Nirmal Bang Equities Pvt.
The widening in the gap is the weakest spot for Asia's third-largest economy and one of the reasons why the rupee has been among the worst-hit in Asia this year. The currency dropped to a record 72.1050 per dollar on Thursday and closed at 71.7363 on Friday.
The central bank has depleted $26 billion in foreign reserves since April to support the rupee. Expectations of more monetary policy tightening by the U.S. Federal Reserve, fears of an emerging-markets contagion along with elevated crude oil prices are weighing on the currency.
The RBI said foreign portfolio investments recorded a net outflow of $8.1 billion in the June quarter – as compared with an inflow of $12.5 billion in the same period last year – on account of net sales in both the debt and equity markets.
Net services receipts increased to $18.7 billion, higher than the previous year's $18.3 billion, mainly on the back of higher earnings from software services and financial services, the RBI said. It was, however, lower than the $20.16 billion seen in the January to March quarter.
Remittances were at $18.8 billion, up 16.9 percent from the previous year; while net foreign direct investments rose to $9.7 billion from $7.1 billion a year ago