German Industrial Output Unexpectedly Slumps on Investment
(Bloomberg) -- Germany's industry is experiencing further signs of strain amid trade tensions between the U.S. and the European Union, with production unexpectedly declining for a second consecutive month.
Figures published Friday showed a 1.1 percent decrease in July, missing economists' median forecast for a 0.2 percent increase. Exports from Europe's largest economy fell 0.9 percent -- the most since February -- and the trade surplus, a key point of contention with President Donald Trump, narrowed.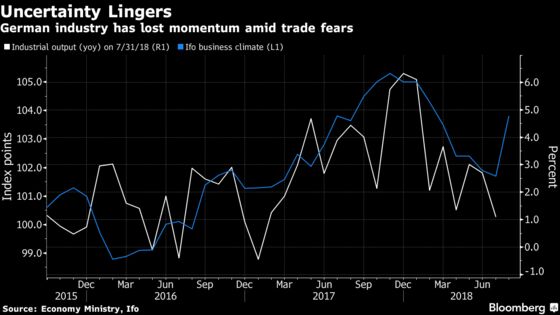 The data caps what's been a challenging week for the euro-area economy, with surveys showing trade fears have dented manufacturing confidence and Germany reporting another drop in factory orders.
The Economy Ministry attributed the current weakness in part to temporary bottlenecks related to new emission-test procedures for cars. "In light of the slow order intake but a large backlog of work, the industrial upswing should continue as the squeeze loosens," it said in a statement, adding that a boom in construction is continuing.
In the Netherlands, manufacturing production fell 0.9 percent in July, while Spanish output fell for a third time in four months. But there was better news from France, where production beat expectations by rising 0.7 percent. Separately, German labor costs rose 0.2 percent in the second quarter compared to the previous three months.
Actual (July)
Survey (July)
June
Industrial output m/m
-1.1%
0.2%
-0.7%
Industrial output y/y
1.1%
2.6%
2.7%
Exports
-0.9%
0.3%
0.1%
Imports
2.8%
0.1%
1.3%
Trade surplus
EU16.5b
EU19.5b
EU21.8b
Current account surplus
EU15.3b
EU20.0b
EU26.2b
The European Central Bank will publish new economic projections for the euro area next week alongside its next policy decision. In June, it forecast growth of 2.1 percent this year and 1.9 percent in 2019. The median forecast in Bloomberg's latest survey in mid-August was broadly in line with those numbers.