Riksbank Says It's Ready to Raise Rates in Coming Months
(Bloomberg) -- Sweden's central bank gave itself more scope to delay planned increases in interest rates as policy makers seemed unwilling to take any chances during a volatile week that risks ending in political turmoil.
Three days before a national election, with polls pointing to a potentially chaotic outcome, the Riksbank kept its main rate at minus 0.5 percent, as expected, and said it won't raise rates next month, according to a statement on Thursday. But the bank expects to add 25 basis points to its main rate in either December or February, it said. In July, the bank had indicated it would start raising rates toward the end of the year.
The krona initially weakened as much as 0.7 percent against the euro on the bank's comments, but recouped some of those losses and was trading about 0.4 percent down by 12:15 p.m. local time.
In a press conference after the rate decision was announced, Governor Stefan Ingves said the bank's projection is for the krona to strengthen over time, but acknowledged that it's "very hard" to make currency market forecasts in the short term.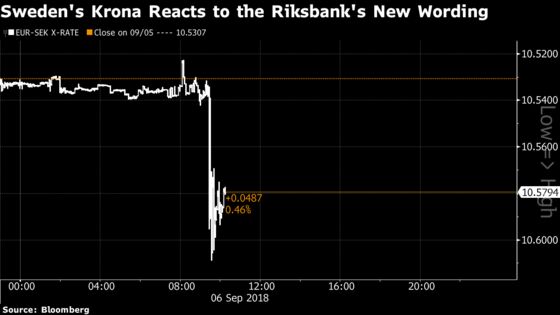 "If the economy develops as expected, there will soon be scope to slowly reduce the support from monetary policy," the Stockholm-based Riksbank said.
Robert Bergqvist, chief economist at SEB AB in Stockholm, said the krona's reaction was a "bit surprising."
"The message is clear: a normal rate hike is 25 basis points (not 10 or 15 basis points), and the hike will come in December or February," he said. That's a "hawkish twist when we look at the inflation forecast."
But some economists were left with a different takeaway. Anna Breman, chief economist at Swedbank AB, said policy makers "are trying to convince us that they want to raise rates by pushing hard on a 25 basis point hike, which is hawkish. But at the same time, the bank is "opening up for a postponement into next year."
This is what Martin Enlund, chief analyst at Nordea in Stockholm, had to say:

"This is a very unclear signal from the Riksbank, again," Breman said. "They have changed their minds so many times, so it's hard to believe in their message. This is, of course, a symptom of the executive board's internal disagreements."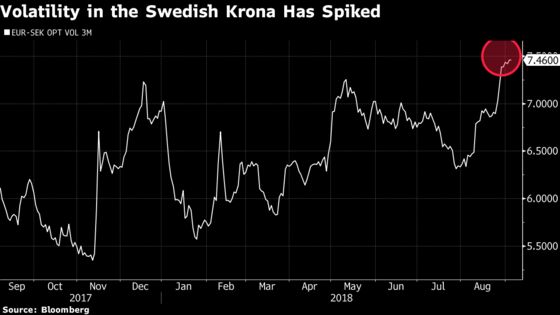 The bank met as Sweden's krona hovers around its weakest level since the global financial crisis, with investors growing increasingly concerned about the outcome of Sunday's election. Polls suggest that the nationalist Sweden Democrats, who want to drag the country out of the European Union, will emerge as one of the biggest in the parliament, making it difficult for the two main blocs to form a stable government.
Read More About Sweden's Election
Nationalist Lead in YouGov Poll Has Sweden on Edge Ahead of Vote
Swedish Krona at Crisis Levels 11 Days Before Historic Election
'I'm Not a Racist, But': Sweden Faces Historic Upset in Election
Sweden's Two Political Blocs in Dead Heat as Election Day Nears
At the Riksbank, policy makers are waiting for clear signs that their efforts to resuscitate inflation have left a lasting impression. But recent figures suggest that core inflation is slowing, which raises questions about how well the bank will be able to defend its 2 percent price-growth target in the longer term. At the press conference, Ingves said that energy prices are a big part of why inflation is currently at target.
Click on this link to see the Riksbank's key forecasts
The bank "continues to exercise considerable vigilance as regards the development of inflationary pressures in the economy," it said. "The krona exchange rate also has a bearing on inflation, and it is important that the krona develops in a manner compatible with inflation remaining close to the target."
At Nordea Bank AB, economist Andreas Wallstrom said the revision to the Riksbank's rate path was "somewhat more than we had expected." Nordea is sticking to its forecast that the Riksbank will wait until the fourth quarter of next year to raise rates, it said in a note to clients.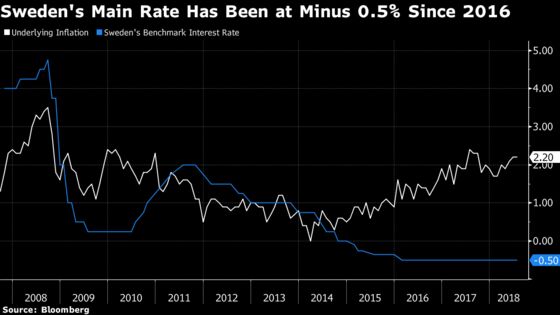 But the weaker krona might make it easier for the Riksbank to start raising interest rates from record lows, as imports grow more expensive and inflation edges higher. The boost to Swedish exports, which are cheaper thanks to the weak krona, will also help fuel overall economic growth, all things being equal.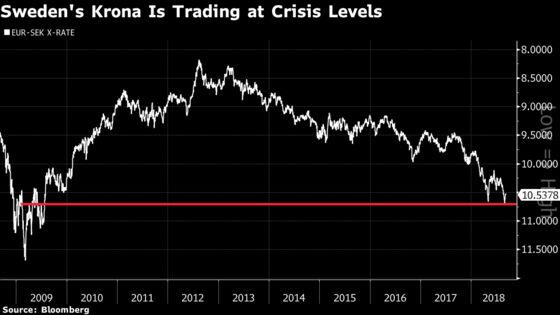 Read More About What Economists Are Saying
Handelsbanken to Review Forecasts After Mixed Riksbank Message
Swedbank Says Riksbank Is Sending a 'Very Unclear Signal' Again
Nordea Says Riksbank's Rate Path Revision Larger Than Expected