Heroes Go Missing in Emerging Markets as Rout Creates Value
(Bloomberg) -- There are bargains everywhere in emerging markets, but few investors brave enough to grab them.
PineBridge Investments says would-be buyers should bunker down for a time, while AMP Capital Investors Ltd. says the price action suggests the sell-off has further to go. Aberdeen Standard Investments is worried that markets are failing to take heart from the flat-lining dollar.
The dearth of buyers underlines how some investors may have lost their nerve as a rout recently centered on Argentina and Turkey began spilling into even the most robust of emerging markets, fueling concern of broader trouble. The assets of developing economies have also become trickier to navigate amid outsize swings: the gap between a JPMorgan Chase & Co. gauge of expected volatility in developing-nation currencies and a Group-of-Seven measure was at the highest level since 2009.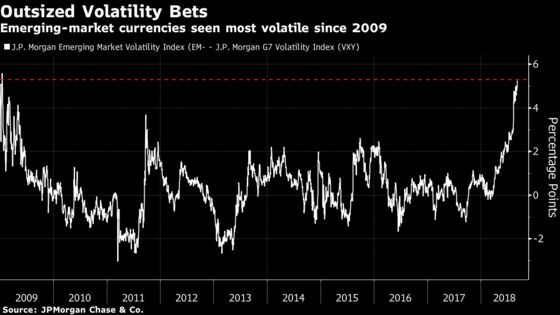 "Market sentiment has deteriorated fast and it seems appropriate to bunker down for a little while and not be a hero," said Anders Faergemann, a fund manager at PineBridge in London, which oversees $87 billion. "We have become slightly more cautious for the short term and will bide our time before building larger holdings in our favorite currencies."
Emerging markets appear to have taken on a life of their own. Developing-nation currencies retreated 2 percent last month, set against the dollar's 0.7 percent gain. Pledges from Turkey and Argentina to shore up their currencies failed to stem the declines, and an index of stocks headed toward a bear market.
It's not so much the additional selling, but the lack of buying that spells more gloom, said Edwin Gutierrez, the London-based head of emerging-market sovereign debt at Aberdeen Standard.
"There are loads of bargains out there, but everyone is gun shy due to the lack of near-term catalyst for a rally," Gutierrez said. "My biggest concern is that the dollar rally has stalled out yet that hasn't given us traction in EM FX, like we all thought would happen."
Concerns that troubles in emerging markets could spread have also held back investors.
Markets bear "the hallmarks of a vicious circle which can intensify further" and U.S. equities won't be immune to the contagion, according to Nader Naeimi, AMP Capital's head of dynamic markets. Only a pause in U.S. interest-rate increases or signs that China's easing measures are supporting growth could stop the "hemorrhaging," he said.
"With emerging-equity valuations not so demanding and currencies already cheap, a U.S.-led leg lower in emerging-market assets over the next several weeks should set the springboard for tremendous buying opportunities across the emerging world," Naeimi said. "The golden opportunity will come, but you need to have dry powder to take advantage of it."
Naeimi, based in Sydney, has been staying up late to watch how markets perform through the European session and when they open in the U.S.
"It's hard to sleep well when your mind is so active with a thousand things," he said. "To avoid night sweats though, I don't take big risks when I see fire and fuel like now, and have lots of tail hedges in place."
PineBridge favors the Mexican and Colombian pesos as the countries' economies are "on a positive track" and central banks have room to ease
"We have attempted to pick up credits or countries with a positive outlook, but you can't build big positions in this type of market as moves can be quite violent"
His fund has held more cash since profiting from a brief rally in the market in July
While South Africa's rand has been caught up in the rout due to its high-beta status, an unexpected recession and worrisome political headlines, the currency will eventually become "overly undervalued"

His firm remains constructive on South Africa for next year
Investors should focus on countries where contagion is overdone and "idiosyncratic risk" hasn't been the driver
These include Indonesia's local-currency bonds, which have borne the brunt of the sell-off in Asia because of the relatively high level of overseas ownership
There will probably be a reassessment of the U.S. economy, politics and the dollar after the U.S. November mid-term elections, which would be a catalyst for a rally in emerging markets
His fund is holding short positions in several emerging-market currencies including Indonesia's rupiah, which has slumped to the lowest since the 1998 Asian financial crisis
He is also betting against Brazil's real ahead of the nation's most unpredictable election in decades, as well as the currencies of Russia, Hungary and Mexico
He is selling South Korean and Taiwanese shares because of their "high sensitivity" to global trade skirmishes
The tech sector, which has a significant representation in those markets, is also "one of the frothiest themes globally"
Shamaila Khan, director of emerging-market debt at AllianceBernstein in New York
The manager has overweight positions in frontier markets in the Middle East, select countries in Central America and the Caribbean as well as Africa
Argentinean front-end dollar bonds look attractive at current levels
"We are managing our beta to navigate the volatility and our beta is close to the lowest it has been this year"
It is important to see the dollar stabilize for emerging markets to recover
Brian Jacobsen, chief portfolio strategist at Wells Fargo Asset Management
Emerging-market local-currency debt is attractive as the dollar's strength is "mostly behind us," leaving room for developing-nation currencies to appreciate
"We were thinking that U.S. high-yield was offering decent yields and there was really no need to take on the currency risk and political risk associated with emerging-market debt but after the sell-off, it looks a lot more attractive than what it did even a month or two ago"