German Factory Orders Unexpectedly Drop Amid Trade Fears
(Bloomberg) -- German factory orders unexpectedly fell for a sixth month this year amid a slump in investment-goods demand from abroad, adding weight to concerns that trade tension may be starting to bite Europe's largest economy.
Orders dropped 0.9 percent in July from June, when they plunged a revised 3.9 percent, the Economy Ministry in Berlin said Thursday. The decline compares with economist expectations for a 1.8 percent increase.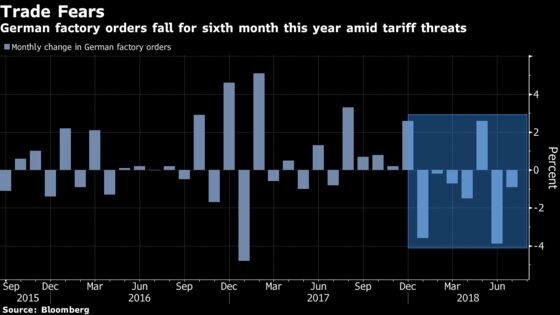 Trade-war fears have already shown signs of filtering through into the economic performances of Germany and the 19-nation euro area. Surveys of purchasing managers this week showed a dent in manufacturing momentum, while business confidence in the region slipped to the lowest in a year. In a sign that the truce on tariffs between the European Union and the U.S. might not hold, President Donald Trump told Bloomberg last week the EU was "almost as bad as China, just smaller."
Thursday's report showed export demand fell 3.4 percent in July, led by non-euro-zone orders that declined 4 percent.
Carmakers including Daimler AG and Fiat Chrysler Automobiles NV have cut their full-year expectations after customers in China held back from purchasing new vehicles, betting on cheaper prices in case the government lowers tariffs in response to the spat with the U.S. Continental AG downgraded its outlook for the second time this year after disappointing sales in the country and Europe.
The Economy Ministry said global uncertainty fueled by increased trade tensions probably weighed on demand. At the same time, it pointed to temporary bottlenecks related to new emission-test procedures for cars that have led to delays in approvals. Volkswagen AG said last week that it anticipates between 200,000 and 250,000 cars will be affected.
Order drops for cars and car parts were responsible for some two thirds of the decline in factory orders over June and July, the ministry said, adding that it expects a rebound later in the year. It highlighted still-full order books and an improvement in business sentiment.
Confidence in the German economy rose for the first time in nine months in August and the Bundesbank has said the economy remains on a "sound growth path."
Wirecard AG has raised its full-year profit forecast twice as it benefits from the accelerating global trend toward digitalization of payment processes. The fintech that's among Europe's top performing stocks of 2018 will join Germany's benchmark DAX Index later this month.