U.S. Firms in August Added Fewest Workers in 10 Months, ADP Says
(Bloomberg) -- American businesses in August added the lowest number of workers since October, as most industries had difficulty filling positions in a tight labor market, according to data released Thursday by the ADP Research Institute.
Highlights of ADP Employment (August)
Private payrolls increased by 163k (200k est.) after a downwardly revised 217k July advance (prev. 219k)
Payrolls in goods-producing industries, which include manufacturing and construction, climbed 24k, also the lowest since October
Service providers added 139k workers to payrolls 
The data suggest companies may have taken a breather from hiring in August, as they could be worried about escalating trade disputes or facing difficulty recruiting employees amid a shrinking labor pool.
The ADP figures may lead some analysts to reassess estimates for job gains in Friday's employment report from the Labor Department. Before the ADP data, the median estimate for private payrolls in Friday's monthly government report was for a 195,000 gain. The report is based on ADP's payroll data, representing about 411,000 firms employing almost 24 million workers in the U.S.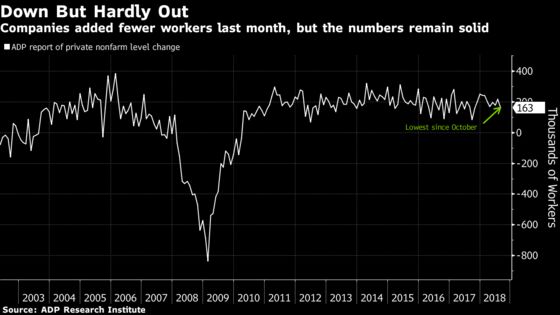 "Employers are aggressively competing to hold onto their existing workers and to find new ones," Mark Zandi, chief economist of Moody's Analytics Inc., said in a statement. Moody's produces the figures with ADP. "Small businesses are struggling the most in this competition, as they increasingly can't fill open positions."
Construction payrolls added 5,000, the lowest in 10 months; manufacturing added 19,000; and health care increased by just 19,000, the lowest since March 2014
Employment in trade and transportation increased by 21,000. Professional services added 10,000, the least since January
Natural resources and mining lost 1,000 workers, the first reduction since September
Large firms, those employing 500 or more workers, increased staffing by 31,000 jobs; payrolls rose by 111,000 at medium-sized businesses, or those with 50 to 499 employees; and small companies added 21,000 jobs