Bombshells Left and Right Make Focusing Impossible: Taking Stock
(Bloomberg) -- The stock market in the U.S. continues to act resilient despite a bucket of negatives outshining the positives to start this holiday-shortened week: The S&P 500 has dipped ~0.4% in the past two days, or much less than the decline for Europe's Stoxx 600 of almost 2% in the same time frame.
Action is quiet this morning, with the subsiding panic in emerging markets helping stabilize equity markets around the world, though worth noting that the MSCI EM index is down for the seventh day in a row and approaching bear market territory. E-minis are currently fluctuating between positive and negative territory, European markets are mostly flat despite a disappointing German factory orders print (a surprise drop of 0.9% versus expected gain of 1.8%) while the Shanghai composite closed off its lows.
There's no doubt that the traders' focus is all over the place, from the bloodbath in emerging markets that's led to multiple contagion warnings to the jitters over a $200 billion tariff slap on Chinese imports now that the public comment period deadline is coming to a close to the back-and-forth negotiations on the new Nafta pact to the exponentially increasing worries over tech regulation and the ensuing spillage in the sector (Netflix and Twitter both pulled back by more than 6% on Wednesday) to a 170-page report from Marko Kolanovic and nearly 50 other analysts at JPMorgan about an upcoming "great liquidity crisis"
And of course, add in whatever the heck is going on with that anonymous op-ed in the New York Times that caused Trump to tweet one simple all-caps question: "TREASON?" -- this'll be a hot political topic for days/weeks, as if we didn't have enough, though unlikely a market mover unless some massive reveal or action gets taken. But until then, those who are so inclined are now able to wager on who may have authored the opinion piece. Yup, the website MyBookie is giving odds on 18 people, including -150 on Pence, +200 on Betsy DeVos, +400 on Pompeo, Mnuchin, and Kelly, in addition to the "field" getting -300.
Speaking of distractions, our long-form read of the day comes from Institutional Investor on how Wall Street abetted an opioid disaster: "Insys Therapeutics allegedly pushed doctors to prescribe extreme pain medication for minor discomfort. People died. Wall Street analysts missed it — but a handful of journalists and hedge funds knew."
Keep an eye on all tariff proxies (Caterpillar, Boeing, the semiconductors, et al) given the potential $200 billion announcement from Trump, those pesky pot stocks that won't stop spiraling upwards amid presentations from both Tilray and Canopy Growth today, and the truck machinery group (like Cummins and Paccar) after preliminary monthly orders set another monthly record while Navistar boosted forecasts.
And conference season continues with a slew of big names in attendance today, including Microsoft, Micron and Nvidia at Citi, AT&T, Viacom and Comcast at BofAML, and Macy's and Lowe's at Goldman.
Meanwhile, here's three of the biggest news stories, and their respective astounding charts, that every equities trader should be aware of: 1) Tilray and the rest of the pot stocks are looking more and more like the crypto craze from the end of last year, 2) AMD's 177 percent year-to-date surge leaving all other semiconductor stocks in the dust, and 3) former hedge fund darling JD.com had its worst day ever as a public company as the plot thickens over its billionaire founder's release from jail.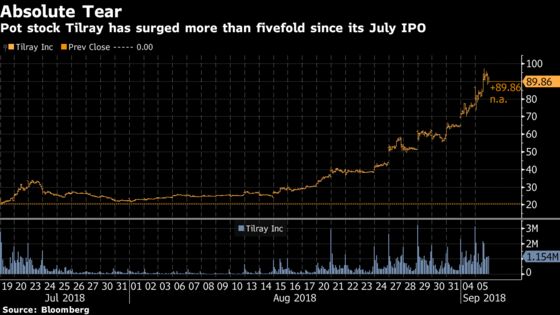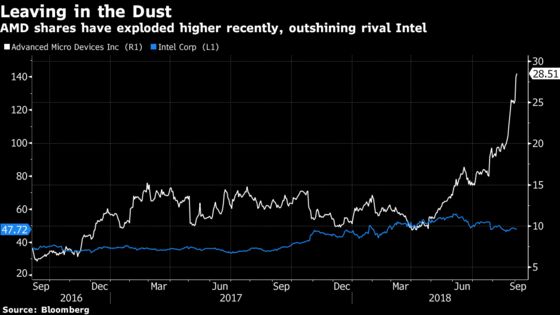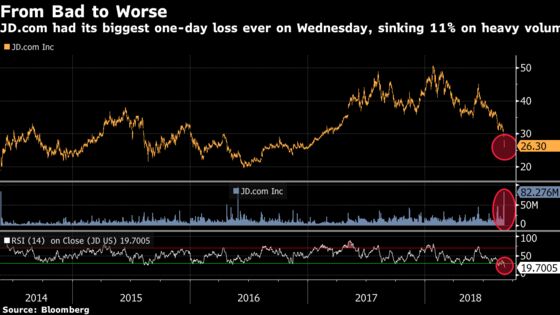 Notes From the Sell Side
UBS has a couple of notes related to Tesla. On the one hand, the Model 3 won the firm's "teardown race" due to its technology edge on the IT side and despite significant build quality issues. On the other, the analyst expects the firm to be profitable in the third and fourth quarters, but those profits will decline significantly in 2019 as pricing normalizes.
Baird removed outperform-rated Micron as top large-cap idea in the semiconductors sector and slashes its price target to $75 from $100: "DRAM pricing is likely peaking in C3Q, while NAND oversupply has worsened recently. Given C1H19's weak seasonality in NAND, we do not expect a stabilization in NADN flash pricing until C2H19."
Goldman reinstates Rite Aid with a sell rating and a price target of a buck, noting that the stand-alone version of the company is in a "disadvantageous position" as it lacks the necessary scale to effectively compete and negotiate with the healthcare supply chain constituents.
JPMorgan downgrades Franklin Resources to an underweight as recent weakness in emerging markets, and EM debt in particular, will weigh on the company's organic growth and earnings potential. Increased outflows will also create potential for further underperformance.
And the cruise lines are getting some positive mojo from a couple of analysts today, with Bernstein recommending to buy the space into hurricane season and the new year (top picks remain Royal Caribbean and Carnival) while Morgan Stanley says that another month of strong booking commentary from travel agents increases the firm's confidence that yields are inflecting positive; they add that they now expect Carnival to boost its full-year yield guidance.
Tick-by-Tick Guide to Today's Actionable Events
7:00am -- DVMT, GIII, DCI earnings
7:30am -- LB monthly sales
7:30am -- GIS, TLRY at Barclays global consumer staples conference
7:45am -- BHGE, HES at Barclays CEO energy-power conference
8:00am -- FCEL earnings, DVMT earnings call
8:00am -- MSFT at Citi global tech conference
8:00am -- JBHT at Cowen global transportation conference
8:05am -- M at Goldman global retailing conference
8:15am -- ADP Employment
8:15am -- PG at Barclays global consumer staples conference
8:30am -- Initial Jobless Claims
8:30am -- BKS earnings
8:45am -- YELP at Citi global tech conference
9:00am -- NAV earnings call
9:00am -- BUD at Barclays global consumer staples conference
9:30am -- MU, KLAC at Citi global tech conference
9:45am -- Markit Services/Composite PMI
9:45am -- JNJ at Wells Fargo health care conference
9:45am -- KO at Barclays global consumer staples conference
10:00am -- ISM Non-Manufacturing, Factory Orders, Durable Goods
10:00am -- Fed's Williams speaks at University of Buffalo
10:00am -- ZAGG analyst day
10:15am -- CSCO, W at Citi global tech conference
10:20am -- SYK, HCA at Wells Fargo health care conference
10:30am -- EIA natgas storage
10:30am -- HAIN at Barclays global consumer staples conference
10:30am -- JWN at Goldman global retailing conference
11:00am -- DoE oil inventories
11:00am -- KS holders vote on WRK deal
11:00am -- FEYE, EXPE, WDC at Citi global tech conference
11:00am -- T at BofAML media, communications and entertainment conference
11:15am -- LOW at Goldman global retailing conference
11:45am -- GPRO at Citi global tech conference
11:45am -- CHTR at BofAML media, communications and entertainment conference
12:00pm -- CELG at Citi biotech conference
12:35pm -- VMW at Citi global tech conference
1:00pm -- NTGR analyst day
1:20pm -- NVDA at Citi global tech conference
1:20pm -- DVN CEO David Hager on Bloomberg TV
2:15pm -- CGC at Barclays global consumer staples conference
2:55pm -- ROKU, OLED at Citi global tech conference
3:00pm -- VIAB at BofAML media, communications and entertainment conference
3:00pm -- SAM at Barclays global consumer staples conference
3:15pm -- RH at Goldman global retailing conference
4:00pm -- DOMO earnings (roughly given first report since IPO)
4:01pm -- FNSR, FIVE earnings
4:02pm -- AVGO earnings
4:05pm -- MRVL, PANW (roughly), OKTA, GME, ZUMZ, KFY earnings
4:15pm -- ABM earnings
4:30pm -- PANW earnings call
4:45pm -- MRVL earnings call
5:00pm -- AVGO, FNSR, GME earnings calls
6:15pm -- CMCSA at BofaML media, communications and entertainment conference
8:20pm -- NFL season kicks off with Falcons at Eagles (-1); NKE reportedly will air new "Just Do It" ad with Colin Kaepernick during the game
9:00pm -- Trump holds rally in Billings, Montana