Carney's Future at BOE Gets Mixed Reactions From U.K. Lawmakers
(Bloomberg) -- The prospect of Bank of England governor Mark Carney extending his term of office garnered mixed reactions from U.K. lawmakers.
Carney told Parliament Tuesday that he would be open to lengthening his tenure for a second time to help the U.K.'s transition out of the European Union. The Financial Times reported later that he will stay until 2020 in a plan backed by Prime Minister Theresa May.
John McDonnell, the U.K. opposition Labour Party's Treasury spokesman, told Bloomberg Wednesday that he would welcome the Canadian staying longer. Meanwhile Conservative lawmaker Jacob Rees-Mogg, a long-standing critic of the governor, said on LBC radio that speculation about Carney's future was demeaning for the role, and called on him to leave on his scheduled departure date in June 2019.
"Given the instability created by the government's mishandling of Brexit I would welcome him staying on," McDonnell said.
Carney's comments Tuesday came after a week of mounting speculation that started with a diary column in the Evening Standard -- the newspaper now edited by George Osborne, the Chancellor who appointed him in 2013. The issue still isn't resolved as the government has yet to confirm its decision.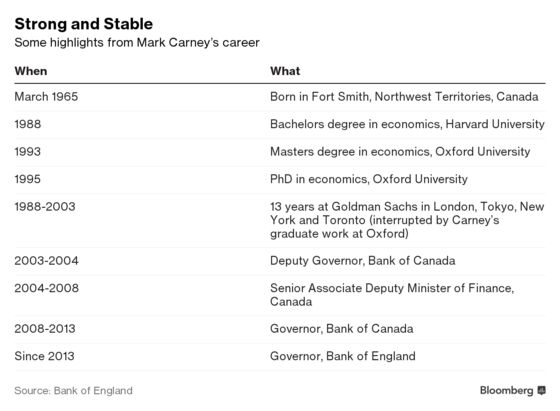 The Financial Times cited unidentified senior government officials for May's plan. Carney's departure is likely to be in the second half of 2020, and will be announced by Hammond within the next week, the FT said.
Carney previously extended his term by a year to mid-2019 following the Brexit vote in 2016. While he was seen as a key source of stability following the referendum, some lawmakers criticized him for wading too far into the political debate.
That criticism has now resurfaced, notably from Rees-Mogg, a pro-Brexit lawmaker who regularly clashed with Carney during his time on Parliament's Treasury Committee and last month called him the "high priest of project fear" -- the phrase used by euroskeptics to deride what they see as scaremongering by their pro-EU opponents.
"Playing ducks and drakes with the period of office as governor of the Bank of England is rather demeaning," Rees-Mogg said in response to a listener question on LBC. "He should go."