Canada's Trade Surplus With U.S. Widens to Most Since 2008
(Bloomberg) -- Canada's merchandise trade surplus with the U.S., targeted by President Donald Trump in Nafta negotiations, grew to the widest in a decade.
The surplus widened to C$5.3 billion ($4 billion) in July from C$4.1 billion the previous month, when the U.S. hit Canada with tariffs on steel and aluminum. Statistics Canada said gains in global exports were led by automobiles and energy, almost all of which are bound for the U.S.
The figures released Wednesday in Ottawa are likely to play into the resumption of bilateral talks in Washington over the North American Free Trade Agreement. Trump has signed a new deal with Mexico and has threatened to leave Canada out and impose stiff auto tariffs if Prime Minister Justin Trudeau's government doesn't make concessions.
Even the metal products targeted by U.S. tariffs showed some resilience in the latest figures. Canadian shipments of steel climbed 16 percent in July after a 36 percent drop in June, while a 2 percent fall in aluminum still left those exports 8.1 percent higher than they were a year prior.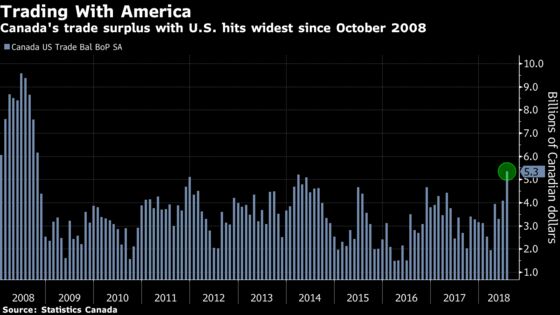 Canada's overall exports rose 0.8 percent in July to a record C$51.3 billion, the agency said. Energy advanced 5 percent to C$10.3 billion, the highest since 2014. Automobiles increased 3.4 percent to C$8 billion as companies took shorter scheduled plant closures.
The export gain combined with a 0.4 percent decline for imports meant Canada's overall trade deficit was the smallest since December 2016 at C$114 million.
The figures provided evidence that Canada's surplus with the U.S. has remained stable this year. The year-to-date total of C$24.2 billion still lags the comparable figure of C$25.6 billion over the same period last year.
In volume terms, which strip out price gains, exports fell 0.8 percent and imports by 1.1 percent
The trade deficit was smaller than the C$1 billion consensus estimate in a Bloomberg survey of economists
Crude oil led the energy gains as prices rose 9.4 percent
The import decline was led by aircraft and metal ores
Statistics Canada also reported that labor productivity climbed by 0.7 percent in the second quarter