Bullard Says Markets Signaling Fed Policy May Be Too Restrictive
(Bloomberg) -- Federal Reserve Bank of St. Louis President James Bullard said low long-term interest rates in the U.S. are raising alarm bells that the central bank's monetary policy may be too tight.
"Financial market information suggests that current monetary policy is neutral or even somewhat restrictive today," he said Wednesday in a presentation at an investor conference in New York.
"Specifically, the yield curve is quite flat," he said, adding that market-based measures of inflation expectations are still below levels consistent with the Fed's 2 percent inflation target.
Over the last six months, the yield on 10-year Treasury notes has fluctuated around an average of 2.9 percent, while the yield on the 2-year note -- which is more sensitive to expectations about the fed funds rate -- has risen about 0.4 percentage point. As a result, the spread between the two, known as the yield curve, has compressed to the narrowest level since 2007.
Bullard said the low long-term rates indicate that the Fed's latest projections for additional hikes are "too hawkish for the current macroeconomic environment."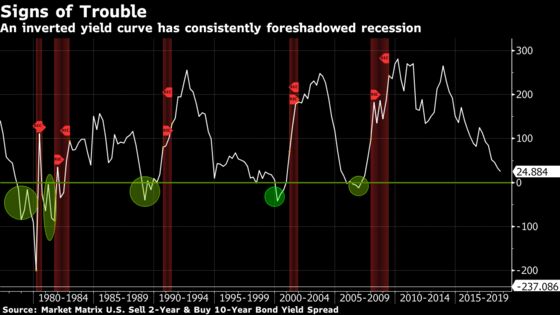 Members of the rate-setting Federal Open Market Committee thought it would be appropriate to authorize two more quarter-point interest-rate increases this year, three in 2019 and one in 2020, according to the median FOMC projection published in June. Bullard, one of the more dovish members of the committee, doesn't vote on rate decisions until next year.
Discussing the yield curve with reporters after his speech, Bullard said his "best guess would be that it would invert later this year, some time next year." An inverted curve, when yields on short-term notes exceed the yield on long-term debt, has consistently foreshadowed recessions.
Normally there is a lag between the inversion of the yield curve and an economic downturn, so "there would be quite a bit of time here to debate yield curve issues if things transpire that way," he said.
Bullard said policy makers should pay more attention to such market signals than models that assume today's low unemployment rate will fuel inflation.
"Neither low unemployment nor faster real GDP growth gives a reliable signal of inflationary pressure because those empirical relationships have broken down," he said in his speech. "Continuing to raise the policy rate in such an environment could cause the FOMC to go too far, raising recession risk unnecessarily."