Indonesian Markets Get Hammered By Emerging-Market Contagion
(Bloomberg) -- Asia's fifth-biggest economy saw its stock market walloped on Wednesday as investors girded for the possibility of more interest-rate hikes to safeguard Indonesia's rupiah, which has fallen to its weakest since 1998.
The benchmark Jakarta Composite Index dropped 3.8 percent at the close, the biggest one-day slide since November 2016. The gauge is down 19 percent in dollar terms for the year so far, factoring in the slump in the rupiah against the U.S. currency. Yields on two-year government bonds have surged more than 60 basis points this week.
"The negative sentiment from Argentine and Turkey is affecting us despite Indonesia still having relatively good fundamentals compared to both countries," said Norico Gaman, head of research at PT BNI Sekuritas in Jakarta. "People are only looking at the nominal figures of the exchange rate, while ignoring the fact that our purchasing power is not fragile and has so far been unaffected. The negative sentiment on currencies has come into equities."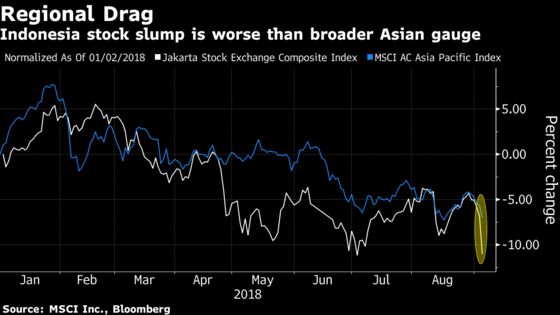 Indonesia raised taxes on imports of some consumer goods in a bid to discourage demand and shore up confidence in rupiah, Finance Minister Sri Mulyani Indrawati said Wednesday.
The rupiah on Tuesday fell to its weakest level since Indonesia was embroiled in the Asian financial crisis in 1998, when it needed an IMF bailout. The country is by many metrics in much stronger shape now, with debt ratios that compare favorably with other major economies. On Friday, Standard Chartered Plc put it in the "low risk" category for leverage.
What does spark worries about Southeast Asia's biggest economy is its continuing current-account deficits, which -- though modest by historical standards -- mean it's reliant on overseas financing. With worries about the Federal Reserve's accelerating destruction of global liquidity through monetary tightening, and about trade wars, that's put Indonesia in the bucket of vulnerable emerging markets.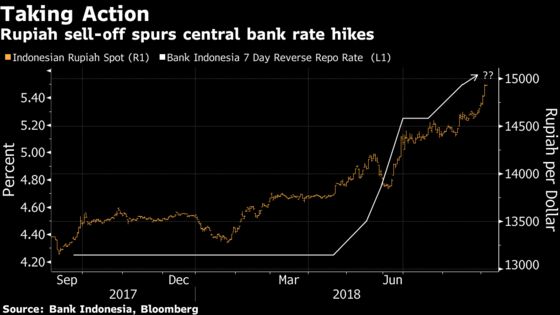 Bank Indonesia has been aggressive in defending the nation's currency through interventions and has increased the benchmark interest rate by 125 basis points since mid-May. Central bank Governor Perry Warjiyo vowed Wednesday to take "pre-emptive" steps to counter a deepening rout in the currency, using language he'd adopted before to signal an interest-rate hike.
Bank Indonesia might not wait to act on rates until the policy meeting scheduled for Sept. 27, according to some analysts. It took such a step with an out-of-cycle hike on May 30.
"An off-cycle BI rate hike is possible to support the rupiah," said Maximillian Lin, an emerging-markets Asia strategist at NatWest Markets in Singapore. "The rupiah is still the most vulnerable among Asian currencies when the dollar strengthens and EM risk sentiment deteriorates."
And that risk sentiment has indeed been deteriorating -- thanks to Argentina's inability to halt the slide in its currency despite a help-line from the International Monetary Fund and outsized rate hikes, and to Turkey's unwillingness to take steps global investors regard as critical to restore confidence. Data Tuesday showing South Africa entering a recession also didn't help.
"The spike in two-year yields this week has been led by a sell-off from onshore asset managers, which points toward an increasingly bearish onshore sentiment," said Marcus Wong, a strategist at CIMB Bank Bhd.'s treasury department in Singapore. "With the next BI meeting only scheduled for end-September, an off-cycle surprise meeting and hike would go some way in stemming this rout.''