Russian Rate Hike in Play as Ruble Revs Up Inflation at Last
(Bloomberg) -- Russia's central bank is setting the stage for an increase in interest rates as a weakening ruble fans inflation.
Just five months after it stopped easing monetary policy, the Bank of Russia raised the prospect of its first hike in borrowing costs since 2014. The country's latest bout of currency weakness is combining with a worsening outlook for inflation as the rout in emerging markets shows no sign of letting up.
While a round of U.S. sanctions in April touched off an even bigger decline in the ruble than last month, the fallout is proving harder to contain this time. Annual inflation accelerated to a one-year high of 3.1 percent in August, the Federal Statistics Service said Wednesday. That matched the median of 14 forecasts in a Bloomberg survey.
The ruble was among the four worst performers in emerging markets in August with a drop of more than 7 percent against the dollar. It's lost a further 1 percent in September, trading 0.3 percent weaker as of 3:53 p.m. in Moscow. The central bank has estimated that each 10 percent decline in its value could add a percentage point to price growth.
"In April, some businesses could have refrained from passing on the ruble's weakness onto consumers amid still-weak demand, and instead sacrificed part of their margin," said Tatiana Evdokimova, chief economist for Russia at Nordea Bank. "But going forward, it will be hard to cut the margin further."
Bank of Russia Governor Elvira Nabiullina said Tuesday that there were factors in favor of raising rates at a meeting next week, even though most evidence still pointed toward leaving borrowing costs unchanged. For now, all 14 economists polled by Bloomberg predict the benchmark will be kept at 7.25 percent on Sept. 14. Still, a discussion over more drastic measures may be heating up.
"We are seeing that inflation is returning to our target slightly faster than we were earlier forecasting," Nabiullina said. That's "primarily because of external factors, the exchange-rate dynamics."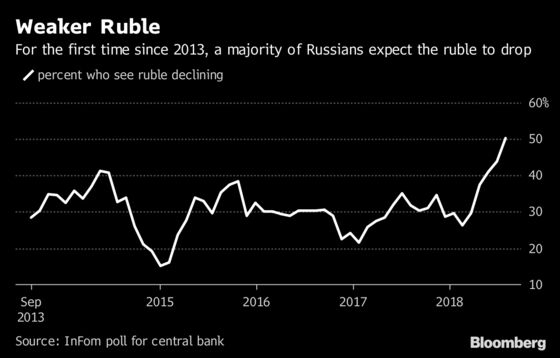 The difference from April is also that a moderation in food prices through the summer months helped mask the ruble's inflationary impact. The outlook for the rest of the year is far less favorable.
What Our Economists Say...
"The ruble's impact on inflation has been muted so far, but companies can only absorb so much in their margins before being forced to pass on higher costs to consumers. The depreciation will hasten the rebound in price growth in the coming months."

--Scott Johnson, economist, Bloomberg Economics.

For more, see his RUSSIA INSIGHT
Adding to concern are plans to raise the value-added tax from Jan. 1, a move the Bank of Russia says may boost price growth by as much as 1.5 percentage points. The main impact is expected in the first quarter, when the central bank sees consumer-price growth temporarily exceeding its target of 4 percent. In July, annual inflation hit a high for 2018 even though it remains well below the goal.
Households' inflation expectations for a year ahead, which the central bank calls a "pillar" of its rate decisions, rose in August to more than double the target. The share of Russians expecting the ruble to depreciate further is at the highest level since 2013, according to surveys conducted by inFOM on behalf of the central bank.
"Headline inflation is going to rise fast in the next few months," said Tatiana Orlova, an economist at Emerginomics in London. "We have a pass-through from the weaker ruble and high global grain prices and an increase in local processed meat prices."