Rate-Cut Bets Jump in New Zealand as Business Confidence Falls
(Bloomberg) -- Traders have increased bets on a New Zealand interest-rate cut as a prolonged slump in business confidence adds to the risk of sluggish economic growth.
The chance of the Reserve Bank lowering the official cash rate in February has risen to 30 percent from virtually zero a month ago, according to swaps data compiled by Bloomberg. There's a 44 percent of a cut by August. While no economists predict the RBNZ will ease policy, some say the risk is growing.
"A cut is more likely than a hike," said Sharon Zollner, chief economist at ANZ Bank New Zealand in Auckland, who forecasts the cash rate will remain at a record-low 1.75 percent for the foreseeable future. "Is it time to definitively call cuts? We're leaning that way but are not over the line yet."
Markets began pricing in the risk of a cut after the RBNZ said Aug. 9 it had no plan to raise the cash rate until 2020 and raised the prospect of lower borrowing costs under a scenario where gross domestic product failed to improve. Assistant Governor John McDermott said the central bank was being pushed nearer to a "trigger point" on rates and it wanted to see evidence that growth was accelerating by the end of the year.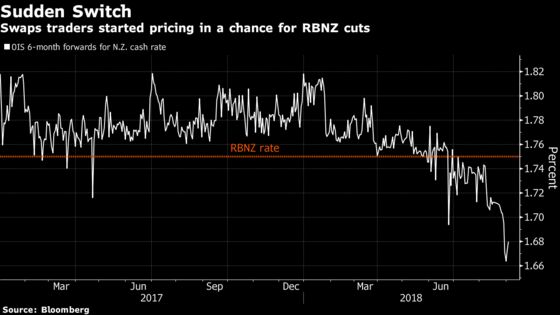 The risk of a rate cut has weighed on New Zealand's dollar, which has dived 2.1 percent the past month, nearing its lowest levels since January 2016. Two-year swap rates are at a two-year low.
Business confidence fell to a 10-year low in August while investment and employment intentions also tumbled, according to the ANZ Bank's monthly survey. RBNZ Governor Adrian Orr has said the biggest risk to the central bank's outlook is weak business sentiment starting to influence investment decisions and leading to lower output.
"We don't rule out a cut if we have to," he said in an interview on Bloomberg Television in Jackson Hole, Wyoming, on Aug. 23, adding the RBNZ would need to see output falling to take such a step in the near term.
Stephen Toplis, head of research at Bank of New Zealand in Wellington, said while there is uncertainty about the medium-term growth outlook, second-quarter GDP data could beat the RBNZ's expectations and the bank needs to be mindful of building inflation pressure. In that environment, it was premature of the market to be pricing in a rate cut.
"The market's attempts to bring forward any easing into late this year or early next look misplaced," he said.
Second-quarter GDP data is due Sept. 20 and there are signs it may be better than the 0.5 percent projected by the RBNZ after a strong bounce in retail sales and a lift in export volumes. The Treasury Department this week said it expects a 0.7 percent expansion.
But the real test is whether the economy will expand 1.5 percent in the six months through December as the RBNZ forecasts, amid falling immigration and gloomy business sentiment. Third-quarter GDP figures are released Dec. 20 and the first RBNZ rate decision after that is Feb. 13.
"Confidence data will be concerning for the RBNZ because if businesses defer employment and investment, weaker activity expectations could become self-fulfilling," said Zollner. "It's extremely unlikely businesses could talk themselves into a recession as long as the fundamentals remain good, but a decent dent in growth is certainly a possibility."