No Love for India Rupee as Technicals Point to Oversold Currency
(Bloomberg) -- India's rupee, Asia's worst-performing currency this year, has slumped so much recently that a little respite may be in store.
Technical charts for the dollar-rupee show the pair's relative strength index (RSI), a widely-followed momentum indicator, surpassed 76 on Monday after the rupee weakened to a new record low. The reading is highest since the spike in May to 77.78, which presaged a 1.5 percent advance in the Indian currency over the next three days.
The rupee's rapid fall in August -- its biggest monthly drop in three years -- would indicate that the currency has fallen too far, too fast. In fact, the rupee reversed losses of as much as 0.2 percent on Tuesday after hitting yet another all-time low. Still, signs of a sustainable recovery in the rupee versus the dollar remain fragile, according to Kotak Securities Ltd.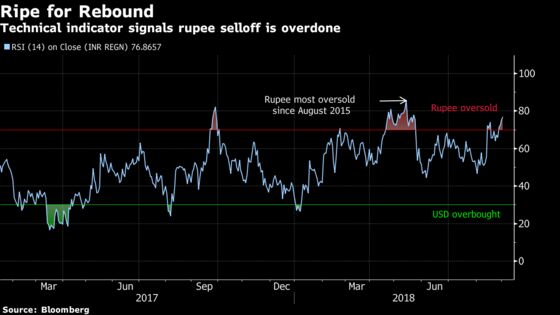 "You may get a pullback, say to 69.70, but nothing beyond that," said Anindya Banerjee, a currency analyst at Kotak in Mumbai. "If oil refuses to fall, and with EM looking very brittle along with an escalating trade-war rhetoric, the template is looking negative for the rupee."
A slowdown in flows to local bonds and equity, and the political uncertainty ahead of next year's general elections will also weigh on the currency, said Banerjee, who expects the rupee to reach 73 per dollar by end-December. That compares with a median forecast of 69 in a Bloomberg survey. The rupee traded at 71.1325 at 11:32 a.m. in Mumbai.
Moody's Investors Service last week said India, the world's fastest-growing oil user, risks missing budget targets because of higher energy costs. While high oil prices stoke inflation, a spike also weakens the rupee, which causes foreigners to sell Indian assets. Global funds have pulled $6.3 billion from local bonds so far this year.