Carney Opens Door to Staying at BOE for Brexit Continuity
(Bloomberg) -- Bank of England Governor Mark Carney opened the door to extending his tenure at the central bank for a second time to help the U.K.'s transition out of the European Union.
Speculation about Carney's future ramped up last week after reports that he had been approached to stay an extra year to provide further continuity during Brexit. With the March deadline looming, the U.K.'s future relationship with the bloc remains unclear, with Prime Minister Theresa May's current plan proving unpopular with lawmakers both at home and abroad.
"Even though I have already agreed to extend my time to support a smooth Brexit, I am willing to do whatever else I can," he told lawmakers when asked whether he would stay on as governor past June 2019, when he is currently due to leave.
While Carney confirmed he's discussed the issue with Chancellor of the Exchequer Philip Hammond, he said he didn't want to pre-empt a government statement. A Treasury official said that an announcement on Carney's future will be made in "due course.''
The BOE Governor was seen as a key source of stability in the political power vacuum that followed the Brexit vote, with one former policy maker calling him the "only adult in the room" for his pledge to support the financial system on the morning of June 24, 2016.
Still, his actions since the referendum, which included an interest-rate cut and an extension of the BOE's quantitative easing, have not been universally popular, with pro-Brexit lawmakers criticizing him for wading too far into the political debate.
Just last month Conservative lawmaker Jacob Rees-Mogg, who at one point called for Carney's resignation, said the governor was the "high priest of project fear," for his warning about the risk of a no-deal Brexit.
That means any extension is likely to prove controversial, even as concerns about the U.K. crashing out of the EU build.
BOE Chief Economist Andy Haldane, speaking alongside Carney and external Monetary Policy Committee member Silvana Tenreyro at the Treasury Committee, said that markets see about a one in four chance of a such a scenario. Carney said this would likely lead to another drop in the pound, which has weakened about 14 percent since the referendum.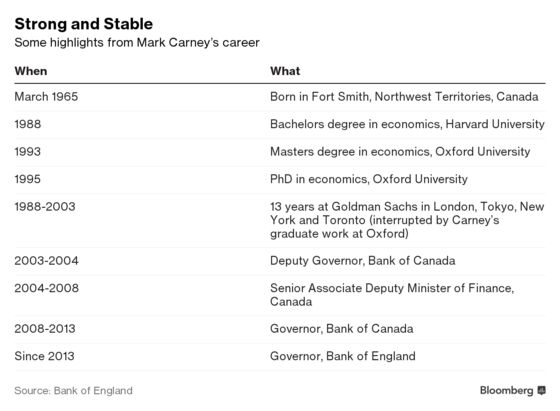 Carney's tenure has been unorthodox from the start. The former Bank of Canada chief was appointed to the role in late 2012 after previously saying he wasn't interested in the job, but initially agreed to serve just five years of what is usually an eight-year term.
Following Britain's 2016 Brexit vote, he agreed to remain in place an additional year to the end of June 2019, to help steer the BOE through the negotiations.
An extension of Carney's time at the BOE will remove one source of uncertainty for Chancellor Hammond and Prime Minister May, whose Conservative Party is struggling to reach a consensus on what sort of deal the U.K. should strike with the EU as the deadline for negotiations edges nearer.
"I fully recognize that during this critical period, it's important that everyone does everything they can to help with the transition of exiting the European Union," Carney said. "I certainly can't make announcements on behalf of the government but I'll do whatever I can to support this process."