JPMorgan Asset Buys Defensive Stocks as Asian Cycle Quickens
(Bloomberg) -- U.S. tax cuts and a deteriorating trade backdrop risk speeding up the valuation cycle in Asian equities, and are prompting J.P. Morgan Asset Management Ltd. to buy more defensive stocks like toll-road operators.
While Asia is only two to three years into the recovery from the 2015-2016 downturn, there's a rising possibility of a shortened economic cycle, said Julie Ho, a Hong Kong-based portfolio manager at J.P. Morgan Asset. That may be pushing the region's stocks closer to a late-cycle environment, said Ho, who co-manages around $4.4 billion of Asian equities.
"The remarkable late-cycle fiscal expansion in the U.S. raises a valid question as to whether a more aggressive monetary tightening might be required at some point in the future," she said in an email interview. "The trade disputes represent a tail risk, which has affected sentiment and may potentially impact the real economy should there be no resolution."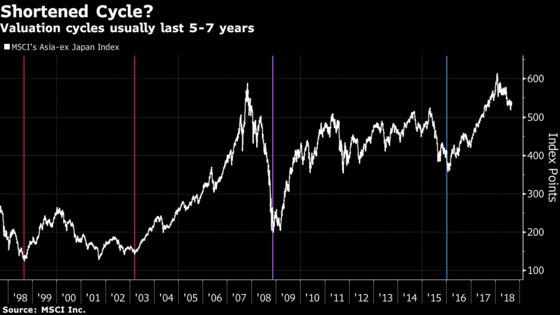 Ho said she's building back exposure to Chinese and Australian toll-road operators, Indian regulated utilities and Singaporean and Australian real-estate investment trusts. Banks should also fare well as rising interest rates drive better net-interest margins and return on equity, said Ho, who co-manages the JPMorgan Asia Equity Dividend Fund and the JPMorgan Asia Pacific Income Fund.
The MSCI Asia Pacific Excluding Japan Index fell for a fourth day on Tuesday, declining 0.1 percent as of 1:12 p.m. in Hong Kong. The gauge has dropped around 14 percent from a peak in late January.
How long are valuation cycles and why is this one different? 
A typical valuation cycle in stocks has tended to last about 5-7 years, with troughs in 1998, 2003, 2008 and in 2015 and 2016, which was led by a drop in commodity prices
"My base case is that we're in mid-cycle, and that's supported by current profitability, which has recovered but is not excessive, and valuations, which are actually still below long-term averages"
But there's a rising possibility of a shortened cycle, due to the late-cycle status of the dominant U.S. economy and the ongoing trade disputes
"Although we don't expect a recession anytime soon, in a typical late cycle, characteristics that distinguish resilient equity portfolios include low beta and value-style investing"
How is your investment approach changing to reflect this?
"Equities can still deliver attractive returns as the economy enters late cycle and we're constructive on Asian stocks, especially when considering their valuation"
"With earnings still expected to grow in the mid-to-high single digit range, our expectation is that Asian equities will trade within their long-term average of 1.5 to 1.8 price-to-book"
At the moment, the biggest overweights are in financials and defensives
"Historically, we have had between 20% and 65% of our equity income portfolios in defensive stocks, which is a wide range and shows that we can alter our strategy materially if valuations justify it. Today we are at just under 30% in defensives. We are not looking to be explicitly defensive yet, but have increased the weight from its lows"
Specifically, what sectors and companies are you favoring?
"We're positive on Hong Kong and Singaporean banks. Both markets track the U.S. interest-rate cycle and continue to have solid loan growth demand"
"Stocks with defensive characteristics -- utilities or so-called bond proxies -- once looked prohibitively expensive for valuation-driven investors. Today, that's no longer the case, as many of those stocks have de-rated"
For example, "Jiangsu Expressway Co., which owns and operates the Shanghai-Nanjing Expressway, de-rated by more than -30% on a price-to-earnings basis from July 2016 to July of last year. Yet they operate one of the most trafficked and mature toll roads and boasts an uninterrupted dividend policy and a history of stable growth"
"Similarly, Australian toll-road company Transurban Group's P/E has de-rated -25 percent, despite having generated underlying earnings growth of more than 10 percent and being constantly underpinned by solid free cash flow and attractive dividend growth"