Italy Leaders Whipsaw Markets With Vows of Defiance, Reassurance
(Bloomberg) -- Italy's populist leaders brushed off their finance minister's attempts to reassure investors, insisting voters' needs must come before European spending constraints.
Next year's budget will see the deficit almost double to "touch" the European Union's 3 percent deficit ceiling, Deputy Prime Minister Matteo Salvini said Sunday at an event in northern Italy. The government will "try to respect all the hurdles Europe imposes, but the well-being of Italian citizens comes first," he said.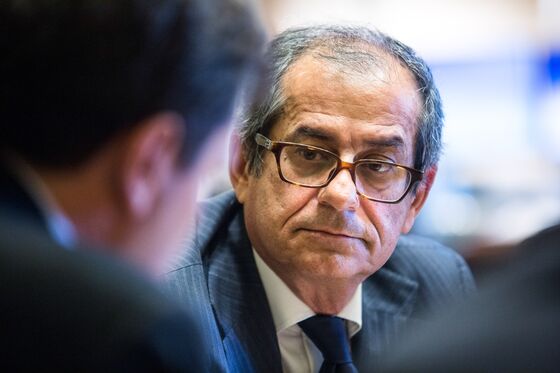 The coalition government's fiscal plans have been an investor focus all summer, with bond yields pushed higher in response to the coalition government's expensive election promises. On Friday, Fitch Ratings cited budget concerns as it changed its outlook on Italy to negative from stable -- the overall grade remains two notches above junk.
Salvini said Monday afternoon that the budget would lower taxes and respect "all the rules," toning down his earlier rhetoric challenging the European Union's restrictions. The Italian 10-year bond immediately rose, sending yields down about 5 basis points to 3.18 percent. That compares with 2.7 percent on June 1 when the government was sworn in.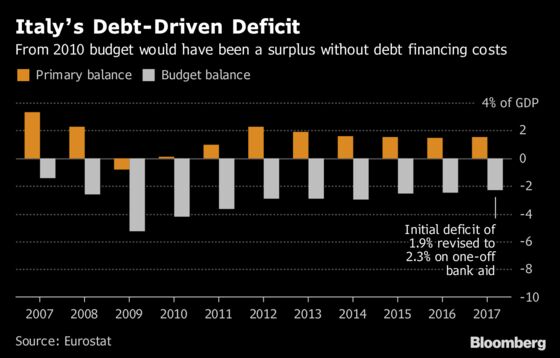 Finance Minister Giovanni Tria is fighting to contain public spending and he said in an interview with La Repubblica that bonds will rise further when investors see the details of the 2019 budget.
"Budget stability will be respected," he said.
Tria, an economics professor drafted at a late stage of the coalition negotiations, is trying to rein in the ambitions of Salvini and Luigi Di Maio of the anti-establishment Five Star Movement, though he lacks the political muscle of the two populist party leaders. The government is due to set new public-finance and economic-growth targets by Sept. 27 and submit a draft budget to the European Commission by Oct. 15.
Salvini's view of the 2019 deficit is in stark contrast with the targets set by Italy's previous government. They saw the budget gap narrowing to 0.8 percent of GDP from 1.6 percent this year. Tria told Bloomberg News in July that his aim is not to worsen the structural-budget situation and possibly to improve it. Still, he's also said that slower-than-expected economic growth means the deficit is heading toward 1.2 percent in 2019.
Goldman Sachs says Italian assets will remain volatile as divisions within the administration cast doubt on the government's commitment to lowering public debt.
"Agreeing on such a budget will likely be a difficult and controversial process, with the risks skewed to a less favorable outcome,'' said Silvia Ardagna, a fixed-income strategist at the bank.
At a rally in Tuscany, Di Maio, Italy's other deputy prime minister, doubled down on campaign pledges, saying the so-called citizen's income remains among the government's top priorities, Corriere della Sera reported. The citizen's income, a relief plan for the poor that critics have dubbed an expensive handout, will be implemented in 2019, he said.