Rio Blaze Destroys Most of 20 Million Museum Relics
(Bloomberg) -- One of Latin America's biggest cultural, scientific and historic treasures, the National Museum in Rio de Janeiro, has gone up in flames, leaving little more than a charred ruin behind.
The blaze destroyed most of the 20 million items in the 200 year-old former palace, including Egyptian mummies, dinosaur replicas and one of the oldest human skeletons found in the Americas, local media reported. Troves of indigenous literature, art and documents related to colonial-era Brazil were also lost. A meteorite on display in the museum, however, was found intact. Ashes of the archive were seen floating in the air and covering sidewalks in the vicinity of the museum.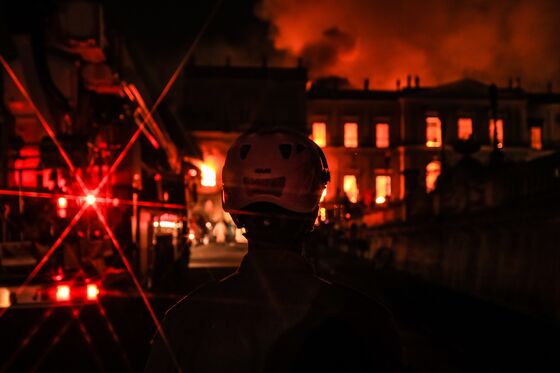 The tragedy is the latest blow to a city that has been suffering from the fallout of the country's worst recession on record. From health to education and security, public services have deteriorated sharply, at one point forcing the closure of the Rio de Janeiro state university, or UFRJ, the same institution that managed the museum.
President Michel Temer formed a network of public and private companies and banks to help in the reconstruction of the museum and its collection, his press office said in a statement.
According to press reports, several of the museums' fire hydrants and extinguishers weren't functioning properly. The museum had temporarily closed down in 2015 for lack of funding.
Protesters blamed the federal and local government for cutting funding for science and education. Municipal guardsmen blocked their advance to the museum, according to the government news agency EBC.