U.S. Stocks Fall, Dollar Gains as EM Assets Wobble: Markets Wrap
(Bloomberg) -- U.S. stocks fell, Treasuries weakened and the dollar climbed as trade tensions persisted and emerging markets remained under pressure.
The S&P 500 started September on the back foot as Nike Inc.'s politically controversial ad campaign and Facebook Inc.'s analyst downgrade weighed on major averages. With the exception of Ford Motor Co., all major automakers reported sales that trailed analysts' estimates. Amazon.com surged past $1 trillion in market value boosting consumer shares. Metals tumbled as the dollar advanced, roiling mining stocks. The greenback added to gains after a reading of U.S. factory output surged.
Emerging-market currencies headed for the lowest close this year, with South Africa's rand leading losses. Declines in Treasuries, gold and the yen left investors with few havens. Oil climbed as a storm threatened U.S. production on the Gulf Coast.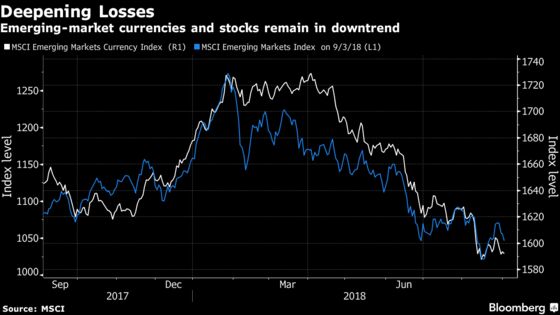 U.S. investors returned from a three-day weekend to ongoing woes in emerging-market assets and simmering trade tensions between America and Canada as the Trump administration moves toward more tariffs against Chinese goods. The factory data gave a reprieve but equities resumed declines in afternoon trading .Nike's new ads contributed to the charged political atmosphere, while Facebook's woes persisted.
South Africa's unexpected tumble into a recession and Argentina's urgent financial measures increased concern about more volatility in stocks and currencies. Investors have increasingly been weighing whether the troubles will spill into developed markets, which advanced during the summer despite trade salvos and a Federal Reserve that's heading toward a late-September rate hike.
Terminal users can read more in our Bloomberg Markets Live blog here.
Here are some key events coming up this week:
Executives from Facebook, Twitter and Google on Wednesday testify on social media, Russia meddling.
U.S. construction and employment reports for August are due this week.
These are the main moves in markets:
The S&P 500 lost 0.3 percent as of 4 p.m. in New York.
Nike fell 3.2 percent, the most since April. Facebook dropped 2.6 percent.
The Stoxx Europe 600 Index decreased 0.7 percent to the lowest in two weeks.
The MSCI All-Country World Index slid 0.5 percent to the lowest in more than a week.
The MSCI Emerging Market Index fell 0.8 percent, reaching the lowest in more than two weeks.
The Bloomberg Dollar Spot Index increased 0.4 percent to the highest in almost three weeks.
The euro fell 0.4 percent to $1.1577, the weakest in more than a week.
The Japanese yen dipped 0.42 percent to 111.483 per dollar.
The Turkish lira sank 0.7 percent to 6.6845 per dollar, the weakest in more than three weeks.
South Africa's rand decreased 3.3 percent to 15.358 per dollar, the weakest in more than two years.
The MSCI Emerging Markets Currency Index sank 0.7 percent, headed for the lowest close since May 2017.
The yield on 10-year Treasuries gained four basis points to 2.90 percent, the biggest advance in a week.
The two-year yield rose three basis points to 2.65 percent.
The spread of Italy's 10-year bonds over Germany's decreased 11 basis points.
The Bloomberg Commodity Index declined 0.7 percent to the lowest in two weeks..
West Texas Intermediate crude dropped 0.9 percent to $69.17 a barrel.
Gold futures lost 0.7 percent to $1,198.10 an ounce, the weakest in more than a week.