Abu Dhabi Confronts Glut of Banks With Three-Way Merger Plan
(Bloomberg) -- Abu Dhabi is engineering a second bank merger in its latest attempt to stay competitive in the era of lower oil prices. The shares of the two listed banks in the potential deal surged.
Three of its state-linked banks are in talks to combine into an institution with $110 billion of assets, according to Abu Dhabi Commercial Bank PJSC, one of the lenders. The negotiations follow a tie-up between Abu Dhabi's two biggest banks last year and the merger of sovereign wealth funds in March.
"This is entirely consistent with the moves over the last few years towards tighter financial control and elimination of duplicated costs in Abu Dhabi Inc.," said Hasnain Malik, the global head of equity research and strategy at Exotix Capital in Dubai.
The shares of ADCB and Union National Bank PJSC jumped by the daily limit of 15 percent at the open in Abu Dhabi.
As oil prices settle at a new normal that's barely enough to balance budgets in the Gulf Cooperation Council, Abu Dhabi, home to 6 percent of global crude reserves, has stepped up efforts to create leaner and more competitive financial institutions.
It doesn't have much choice. There are almost 50 banks operating in the United Arab Emirates serving a population of about 9 million. Compare that with Saudi Arabia's 28 lenders catering to 33 million people, and it's not surprising that analysts have been saying for some time the industry is ripe for combinations. Even the merged lenders are comparatively small globally.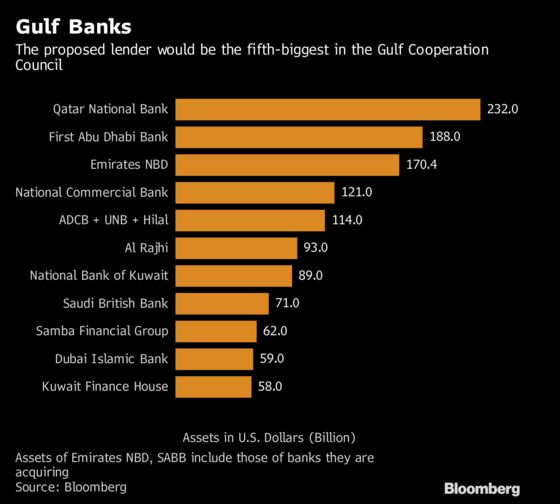 In the latest deal, listed lenders ADCB and UNB are considering combining with privately held Al Hilal Bank to create the fifth-largest bank in the GCC. An agreement could be reached as soon as this month if talks are successful, two people with knowledge of the talks said earlier, asking not to be identified because the discussions are private.
ADCB confirmed the negotiations were under way in a statement released after Bloomberg's initial story. It said the discussions were "currently at a very preliminary stage and may not result in a transaction."
In the spring of 2017, a two-way merger produced First Abu Dhabi Bank with $188 billion of assets, surpassing even Saudi Arabia's largest lender in size.
"With a megabank they will have the balance sheet to compete," said Richard Segal, senior analyst at Manulife Asset Management Ltd. in London. "This will send a strong signal to other countries in the region that are overbanked, to move forward more quickly."
While Brent crude touched four-year highs near $80 a barrel this year, forecasts show it's unlikely to sustain these levels in the next few years. U.A.E. growth slowed to 0.5 per cent last year, well below the 4.9 per cent annual average between 2000 and 2014, according to data compiled by Bloomberg.
Abu Dhabi, the capital, is the wealthiest of the seven-member federation and the biggest oil producer. The bank mergers are part of a broader strategic shift on the part of Abu Dhabi's rulers to prepare for a future where oil's global dominance is set to wane, especially as electric cars become the norm over the next two decades.
In March, it merged Mubadala Investment Co. and the Abu Dhabi Investment Council into a $200 billion investment vehicle, with the hope that a more focused entity would generate higher returns. Since then, dealmaking has surged.
"As larger entities they can expand overseas in a more measured way and benefit from economies of scale," Emad Mostaque, senior adviser at Capricorn Fund Managers in London, said of the bank mergers.