Turkey to Set Tone Again for Emerging Markets This Week
(Bloomberg) -- Events are likely to unfold quickly for emerging markets this week as Turkey and Argentina move to shore up their currencies after they took a battering last month.
The Turkish central bank on Monday vowed to reshape its monetary policy stance next week after inflation accelerated in August to the fastest pace since 2003. Argentine President Mauricio Macri said his administration would raise taxes and cut spending, bringing forward its target of a balanced budget by one year.
"Turkey and Argentina are the two elephants in the room we can't ignore," said Oksana Reinhardt, an executive director at SMBC Nikko Capital Markets in London. "Argentina could be even more of a driver than Turkey, which has broadly stabilized."
Argentine stocks led global equities lower and emerging currencies joined the decline, offering no reprieve for investors despite the U.S. holiday Monday. A slightly bigger-than-expected decline in China's Caixin manufacturing PMI in August suggests growth in the world's second-largest economy continued to lose momentum, damping appetite for emerging-market assets, according to SEB AB's chief EM strategist Per Hammarlund.
Brazil will also remain on tenterhooks after the country's top electoral court banned imprisoned Luiz Inacio Lula da Silva -- who was leading in the polls -- from running in October's presidential elections.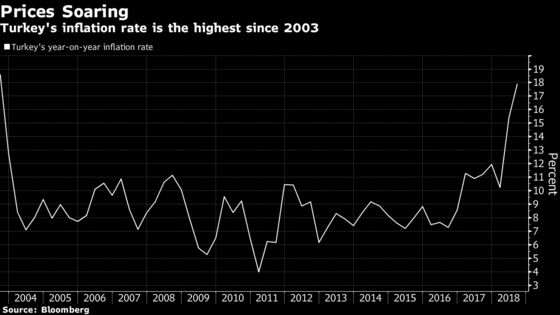 HIGHLIGHTS:
The Turkish lira slumped 1.5 percent after inflation rose more than forecast in August; it briefly erased losses after the central bank signaled higher interest rates are in the offing 
MSCI's index of emerging-market stocks falls 0.9 percent, heading for a fourth day of losses
MSCI's EM-currency gauge slid 0.2 percent
Brent crude oil gains 0.7 percent to $78.16 a barrel
To add to the jittery backdrop, the U.S. is leaning toward slapping fresh tariffs on Chinese imports as early as this week, affecting a further $200 billion of goods, while indicating it will forge ahead with a bilateral trade agreement with Mexico that would leave out Canada. The yuan, which has lost more than 6 percent against the dollar in the past three months, would extend its decline if Beijing retaliates, according to Natwest.
Traders can also look forward to purchasing managers' indexes from across emerging markets as well as Chinese trade statistics. All that before Friday's U.S. monthly payrolls data, which could be key to determining where the dollar heads after it touched a 14-month high in August.
"The countries with the most acute macro imbalances are suffering the most pain given the challenging external environment," said Paul Greer, a London-based money manager at Fidelity International, which oversees about $417 billion of assets. "Investors remain concerned about the potential for EM fund outflows following the sharp drawdowns on total returns during August, especially in local-currency markets."
Click Here for Market Highlights From Asia
Turkey's Runaway Inflation
Turkey's inflation rate rose to 17.9 percent in August, compared to the 17.6 percent median of economist forecasts compiled by Bloomberg

The lira suffered its biggest monthly drop in August since February 2001, when the country abandoned exchange controls and allowed the currency to float amid an economic crisis

Brazil's IPC-S inflation data showed prices rose 0.07% in August. It is the last such release before the central bank's next monetary policy meeting. Markets are pricing the first rate increase in three years, a step that could help to stem losses in the real
Thailand's inflation accelerated to 1.6 percent in August, higher than the Bloomberg consensus of 1.5 percent; the rate was 3.2 percent for Indonesia in the same month, below the Bloomberg consensus of 3.3 percent.
Indonesia's rupiah fell for a fifth day, while the Thai baht appreciated for the first day in four
The Philippines releases inflation data on Wednesday. Any sign of rising price pressures will keep the central bank on its toes, according to ING Groep NV
Brazil's most unpredictable election in decades will further weigh on the outlook for emerging markets now that political campaigning on radio and TV has started, Fidelity International's Greer said

"Brazil has an outsized fiscal deficit, has failed to deliver a reform agenda and is facing challenging elections in October, for which it is difficult to envisage a benign outcome," he said
President Mauricio Macri says he will impose taxes on exporters to boost revenue, and eliminate about half of the current cabinet ministries to reduce spending. The decision was followed by comments by Treasury Minister Nicolas Dujovne, who said that recession in Argentina will be deeper than expected and that a full fiscal plan would be released in the country's official Gazette on Tuesday. Dujovne will travel to Washington to meet with International Monetary Fund officials to ask for cash from a $50 billion credit line to be released more quickly
Tax revenue figures are due Tuesday. The report should provide clues as to whether the nation can reach crucial fiscal targets tied to a credit line from the IMF
Also due this week: Data on industrial production and construction activity, which will help paint an updated picture on how severe Argentina's recession will be this year
Argentina's credit rating may be cut deeper into junk by S&P amid a plunge in the peso and a bailout by the IMF
The peso has slumped 50 percent this year, the worst performer among peers; the central bank raised its benchmark interest rate to 60 percent on Thursday
At around 38 per dollar, Goldman Sachs says it sees an "attractive valuation buffer having built up in the peso. If coupled with decisive fiscal actions, the carry/value proposition could translate into a significant total return from current levels"
Policy makers at Bank Negara Malaysia are expected to keep the overnight policy rate at 3.25 percent on Wednesday. Governor Nor Shamsiah Mohd Yunus has ample room to keep policy unchanged, despite an emerging-market sell-off that's forced her counterparts in Indonesia and the Philippines to take more aggressive steps to defend their currencies. The inflation outlook remains benign in Malaysia after the government scrapped a consumption tax, while economic growth may ease as Prime Minister Mahathir Mohamad cuts back on spending to rein in government debt
Poland's central bank holds its first interest-rate meeting since the August break, with traders predicting policy makers will reiterate their no-change stance. Meanwhile, the 'Polish Davos,' a key economic forum, takes place in Krynica, attended by government officials and dozens of company representatives
Chile, Ukraine and Serbia will also hold monetary-policy meetings
A resolution may be close over replacing Nafta; the White House said it told Congress it intends to sign a trade pact with Mexico, leaving the option of Canada joining the pact "if it is willing" once negotiations restart. President Donald Trump also slammed Canada for what he called "decades of abuse," with a new threat to terminate Nafta
Mexico's incoming Deputy Finance Minister Gerardo Esquivel and Banxico Deputy Governor Irene Espinosa are among speakers at a Moody's conference on Wednesday. Investors will be seeking clues about the recently negotiated preliminary U.S.-Mexico trade deal, which provided a temporary boost for the peso last week. It's the world's top-performing major currency this year, despite slipping in August
Current Mexican Economy Minister Ildefonso Guajardo and incoming Economy Minister Graciela Marquez speak on Thursday at an annual conference sponsored by The Economist. Again, the focus will be on trade and its impact on Mexican financial assets
A flurry of trade figures will be closely watched for the impact of the escalating trade tensions between the U.S. and China. They include Taiwan's on Friday and China's on Saturday
China's August manufacturing purchasing mangers' index fell to 50.6 from 50.8 in July, according to a release Monday from Caixin Media and Markit Economics
Foreign-exchange reserves data will be unveiled by China, South Korea, Malaysia, Thailand, Philippines and Indonesia
Investors will know whether South Africa has entered a technical recession on Tuesday, when GDP figures for the second quarter are published. The economy shrank 2.2 percent quarter-on-quarter in the first three months of the year. London-based Capital Economics says there's a "serious risk" output fell again between April and June

The rand was the worst-performing emerging-market currency after the lira and Argentine peso last month

South Korea will report its final GDP figures for the second quarter on Tuesday
Economists expect the August U.S. jobs report to show employers added 193,000 positions, while the unemployment rate fell to 3.8 percent, matching the lowest since 1969