Sydney Mortgages Signal Australia's Central Bank On Hold to 2020
(Bloomberg) -- A surprise interest rate-hike for Australian mortgage holders should further delay a Reserve Bank policy tightening that markets have already pushed out to 2020.
Westpac Banking Corp.'s decision to raise borrowing costs last week will likely be repeated by other major lenders, as typically occurs in Australia. That would further sideline the RBA, already on hold for two years at a record-low 1.5 percent and set to remain there at Tuesday's policy meeting. On top of that, weak investment data suggest the economy may have hit a soft patch.
"We see economic growth slowing further over 2018," said Daniel Blake, a strategist at Morgan Stanley in Sydney, ahead of gross domestic product data due Wednesday. That will be "predominately driven by a weaker consumer as flat real wages, a slowing jobs pulse and falling house prices weigh on spending."
Westpac's move to lift its key mortgage rate by 14 basis points should add a further impetus to falling house prices in Sydney and Melbourne, already fueled by tighter lending standards amid eye-watering valuations. The bank cited higher funding costs offshore -- as the U.S. Federal Reserve raises rates and the Aussie dollar slides -- for increasing the burden on borrowers already struggling with record household debt and stagnant wages.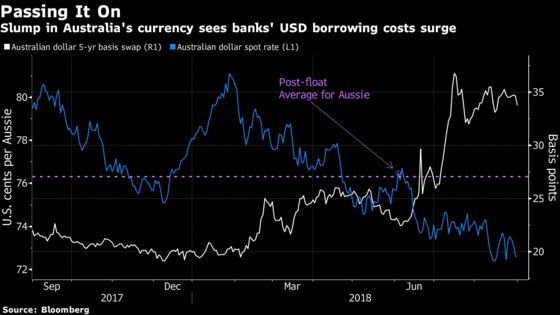 "While bank bill rates have come down, the price to borrow large amounts in the U.S. dollar market is at the highest level in about four years," said Martin Whetton, an interest-rate strategist at Australia & New Zealand Banking Group Ltd. in Sydney. "That market remains one of the main global sources for bank funding."
The central bank is relying on faster economic growth to increase hiring and boost wages, setting the stage for faster inflation and a return to more normalized rate settings. While it's likely to be content with softer house prices in the nation's biggest cities, after they soared in the five years through 2017, it's wary about the potential impact on consumption from households feeling poorer as the value of their property declines.
Westpac's rate move outside of an RBA tightening underscores the tenuous grip of policy makers on borrowing costs, which tend to be decided in markets.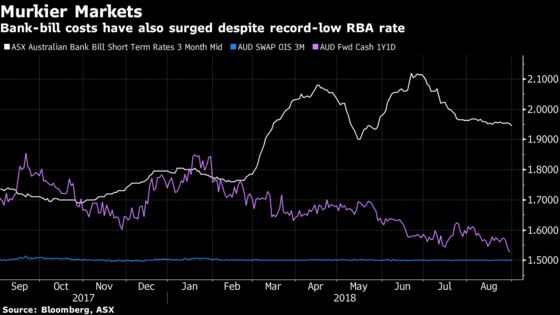 Furthermore, an unexpected drop in business investment in the second quarter -- falling 2.5 percent versus an expected 0.6 percent gain -- suggests the economy might have decelerated slightly. Indeed, the economy is in its longest stretch of sub-2.5 percent investment growth in records dating back 30 years.
Annual economic growth probably slowed to 2.8 percent in the three months through June from 3.1 percent in the first quarter, economists predicted ahead of this week's data.