Rupee Caps Biggest Monthly Fall in 3 Years; Slides to Record
(Bloomberg) -- The rupee weakened to a new low as a selloff in emerging-market currencies sharpened investor focus on countries with wide current-account deficits.
The currency fell past an unprecedented 71 per dollar, closing down 0.4 percent to 70.9950 in Mumbai to cap its biggest monthly retreat in three years. It dropped as low as 71.0350 to a dollar in trade.
The knock-on effect of weakening developing-market currencies, elevated oil prices and fears of fiscal slippage before a general election next year have pushed the rupee down more than 10 percent this year in Asia's worst performance. Standard Chartered Plc said it doesn't see any value in the currency despite the steep declines.
"The INR depreciation is in line with the deteriorating fundamentals," said Divya Devesh, head of Asean and South Asia FX research at Standard Chartered in Singapore. Devesh said the lender maintained its end-2018 forecast at 70 to a dollar.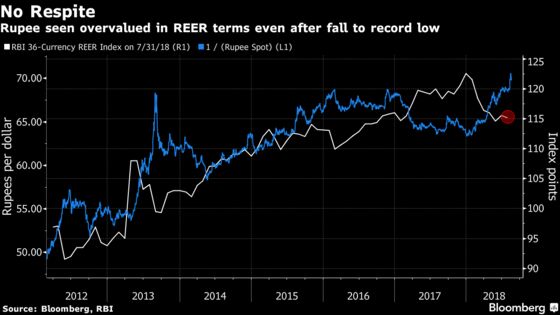 Traders cited intermittent dollar selling by state-run banks to cushion the rupee's decline.
"The RBI is intervening very selectively to contain volatility," said Rushabh Maru, an analyst at Anand Rathi Shares and Stock Brokers Ltd. in Mumbai. "The RBI is unlikely to intervene aggressive as the rupee is still overvalued and EM currencies are depreciating sharply."
Sovereign bonds also saw their biggest fall in four months, weighed by the currency's drop. The benchmark 10-year yield ended at 7.95 percent, up 18 basis points for the month.
The emerging asset class's latest woes came from Argentina, where the peso tumbled to a record low, prompting policy makers to boost a benchmark interest rate to 60 percent. In Turkey, a report that the central bank's deputy governor was set to resign sank the lira. Elsewhere in Asia, Indonesia's rupiah slumped to a two-decade low, spurring intervention from the central bank as the rout in Argentina and Turkey sparked fears of a contagion.