North Korea Missile Shield Fuels Japan's Biggest Defense Increase Since 2014
(Bloomberg) -- Japan's Defense Ministry is requesting its biggest budget increase in five years, driven in part by a U.S.-made missile shield to counter a "grave and imminent" threat from North Korea.
The ministry has requested 5.3 trillion yen ($48 billion) for the year starting in April, an increase of 2.1 percent from the current budget. That includes 424 billion yen for ballistic-missile defense -- more than three times this year's amount -- largely due to the introduction of Lockheed Martin Corp.'s land-based Aegis Ashore system for tracking and intercepting incoming missiles.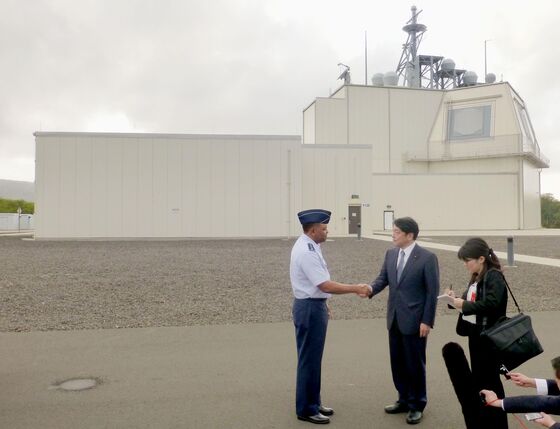 The ministry said Tuesday that North Korea still represented a serious danger, despite U.S. President Donald Trump's assurances the country was "no longer a nuclear threat" after his June summit with Kim Jong Un. In a series of tweets Wednesday, Trump acknowledged a lack of progress in nuclear talks with North Korea and warned he could re-start "war games" with South Korea.
North Korea fired two intermediate-range ballistic missiles over the northern Japanese prefecture of Hokkaido last year, triggering public warnings for residents to seek shelter. Prime Minister Shinzo Abe's government has also come under pressure from Trump to buy more military equipment from the U.S., which defends Japan under a postwar security pact and stations some 54,000 U.S. military personnel there.
Japanese purchases under the U.S. Foreign Military Sales program would rise 70 percent to 692 billion yen under the budget request, the ministry said. The final defense budget won't be set until later this year, after negotiations with the Finance Ministry.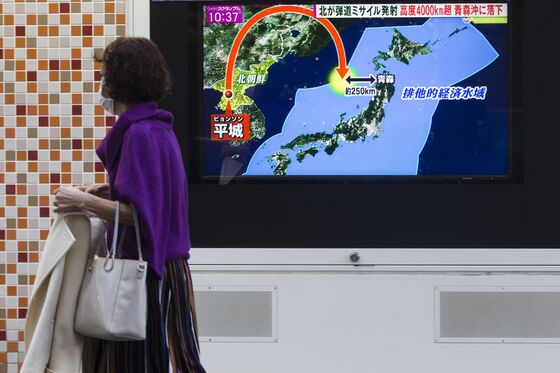 Concern over military advances by North Korea and China have helped Abe justify efforts to loosen anti-war provisions in the country's constitution, reinterpreting language in 2015 to allow Japan to send troops to fight in overseas conflicts. He's pledging to seek an amendment clarifying the legal status of the Japan Self-Defense Forces if elected to a new term as ruling party president next month, according to a campaign pamphlet seen by Bloomberg News.
Members of Abe's Liberal Democratic Party have urged even faster defense budget growth to bring the figure closer to 2 percent of gross domestic product, a benchmark that Trump often cites in cost-sharing complaints to allies. Still, the ministry's proposal would represent the seventh-straight increase.
In a break with recent practice, the ministry didn't specify anticipated costs to offset the burden for communities hosting U.S. troops, such as the plan to transfer some personnel to the American territory of Guam from Okinawa. Such expenses totaled 221 billion yen in the current year.