London Leads Widening U.K. Wealth Gap Since Financial Crisis
(Bloomberg) -- The breadth of wealth inequality in the U.K. was laid bare in new analysis published Saturday.
While the divide is most pronounced in London, where richer households are now 24 times wealthier than poorer ones, other regions have experienced a similar trend since the global financial crisis, according to the Resolution Foundation.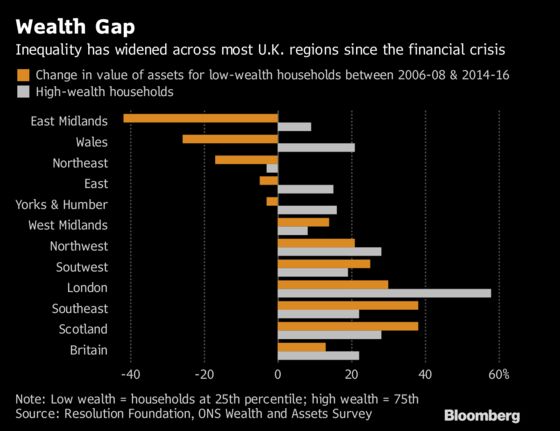 The value of household assets such as property, pensions, financial assets and possessions swelled to 12.8 trillion pounds ($17 trillion) in 2014–2016 from pre-crisis levels of 10.1 trillion pounds, after adjusting inflation, the think tank said. The wealth of the richest grew 22 percent compared with 13 percent for the poorest.
The gulf in London is partly explained by property prices, where the average value of a home is more than double the national average. But the gap has widened in many other parts of the nation too. In Wales, the East Midlands, the northeast, eastern England and Yorkshire, the poorest are still worse off than before the crisis.
"Though the capital is by far the most unequal region, there are big differences in wealth within every region and nation," said Conor D'Arcy, senior policy and research analyst at Resolution. "These gaps matter, since wealth contributes to where families can live, how they deal with income shocks and the risks they can take."
The poorest aren't left behind everywhere. In Scotland and across southern England, the wealth gap has narrowed during the past decade.