How Poor Communication Fed Argentine Peso's Collapse
(Bloomberg) -- A currency crisis is driving Argentina deeper into a recession. The peso is down more than 50 percent so far this year, competing in a race-to-the-bottom with the Turkish lira as the worst-performing currency in emerging markets. An emergency measure by the central bank, hiking interest rates to 60 percent from 45 percent, didn't stop the peso's plunge. Nor has selling reserves. Analysts say the lack of a clear, consistent strategy in South America's second-largest nation is causing investors and the public to lose faith in the government of President Mauricio Macri.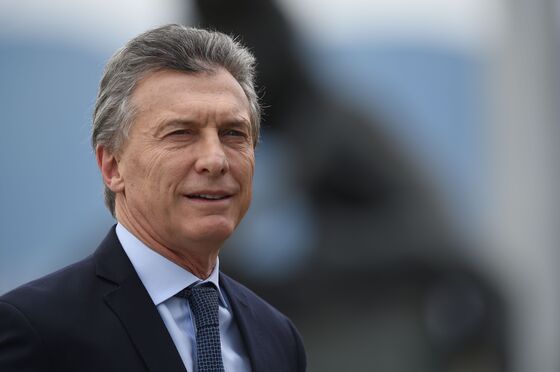 1. Why is the Argentine peso collapsing now?
Though Argentina's economic problems have been building for a while, the recent collapse was triggered by disjointed and vague communication by elected leaders. On the morning of Aug. 29, Macri said the International Monetary Fund had agreed to expedite cash payments to Argentina as part of a $50 billion credit line. But IMF officials didn't comment for several hours, and Macri's government was mum on details of timing and amounts. Eventually, the IMF said only that it would consider Argentina's request to speed up disbursements. The Fund's Director, Christine Lagarde, will meet with the country's Treasury Minister, Nicolas Dujovne, on Tuesday to discuss revisions to the agreement.
A mix of bad luck, bad communication and confusing policies have plunged the peso in 2018. The central bank unexpectedly cut interest rates in January despite no signs that inflation was slowing down. That raised questions about whether Macri's administration was controlling monetary policy, despite publicly saying the central bank was independent. Then a historic drought ruined the country's top export, soy. Rising U.S. interest rates and emerging market selloffs in May and August compounded Argentina's problems. And Argentinians appear unconvinced that Macri has the political will before next year's election to cut spending faster and cover debt payments.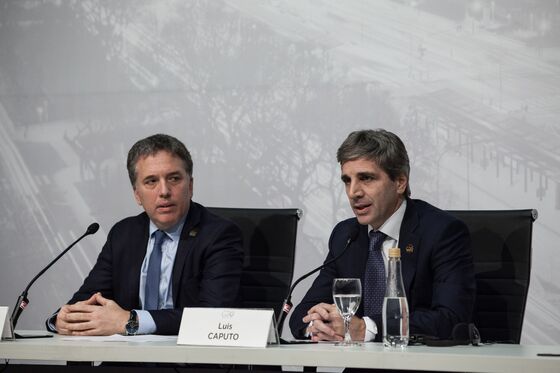 3. Is default a possibility?
Despite concerns among some weary Argentines, the nation isn't staring another 2001 in the face and shouldn't default anytime soon, according to Martin Vauthier, an economist at Buenos Aires-based consultancy Eco Go SA. That's because its repayment schedule is manageable over the next year and much of the debt is in pesos, not dollars, he said.
4. Is this similar to or different from Turkey?
The challenges are similar but the policies are night and day. Both countries have large fiscal deficits and large amounts of debt denominated in U.S. dollars. But while Turkey's President Recep Tayyip Erdogan has unorthodox economic vies, Argentina followed the textbook recipe of hiking interest rates, selling reserves and cutting spending faster. Markets however, are taking a dimmer view on Argentina based on fundamentals, writes Tom Orlik and Felipe Hernandez from Bloomberg Economics. "Argentina has a larger fiscal deficit and higher inflation than Turkey," they note.
5. What's the IMF's role in all of this?
The $50 billion credit line it extended to Argentina in June was supposed to ease investors' concerns about Argentina's large deficits and debt load. It didn't work, as the peso continued to decline. The IMF planned to disburse money gradually over this year and next, before Macri asked for much or all of it up front. Though Director Lagarde continues to express support for Macri, the IMF is a deeply unpopular institution in Argentina. It loaned billions to the country in December 2000 but didn't come to the rescue when Argentina defaulted on $95 billion of debt in 2001 -- at the time, the largest default by a country in history. The default led to an unprecedented economic crisis, wiping out one-fifth of the economy and causing poverty to soar. This is why Macri's decision to return to the IMF has been poorly received in Argentina.
6. What else can be done to contain the peso?
With the benchmark interest rate now at 60 percent, the world's highest, Argentina must turn to less conventional ways to remove excess money in the market. The central bank has sold billions worth of dollars at auctions to defend the currency, but that hasn't done much good. What Argentina really needs, if it's going to stop traders fleeing from its currency, is a quick narrowing of the budget deficit. Coming into this year, Macri sought to gradually cut spending. "A fiscal adjustment shock," Goldman Sachs economist Alberto Ramos wrote in a note, is "the antidote for the market's lost confidence."
7. Where does Macri stand politically?
His approval rating hit a new low in August, according to the key index published by a university in Buenos Aires. And he faces a difficult choice. He needs to close the budget deficit faster to get markets on his side, but austerity will probably anger voters already feeling the pain of inflation that's eroding wages. The big question is whether Macri can get a budget bill for 2019 through Congress with opposition support, then execute it without provoking widespread social upheaval ahead of nationwide elections scheduled for October 2019, during which Macri plans to see for another term.
8. Why does Argentina seem always in crisis?
It's a country of ample natural resources but a history of poor governance. Political polarization over decades and a tendency to opt for short-term solutions has led Argentina to cycles of boom and bust. The 2001 default that plunged millions into poverty followed a successful run in the 1990s, when one peso was worth one U.S. dollar, which many economists at the time said was an unsustainable policy. These days, $1 equals about 38 Argentine pesos. The 2001 crisis was then followed by years of strong economic growth fueled by a global boom in commodities.