Euro-Area Inflation Unexpectedly Slows as Trade Risks Rise
(Bloomberg) -- Euro-area inflation unexpectedly slowed in August, which may add to policy makers' concerns as they prepare to pare back stimulus amid increasing economic risks.
Consumer-price growth came in at 2 percent, below the 2.1 percent reading in July that economists expected to see repeated. The core measure, which strips out volatile components such as energy and food, fell to 1 percent, also below expectations.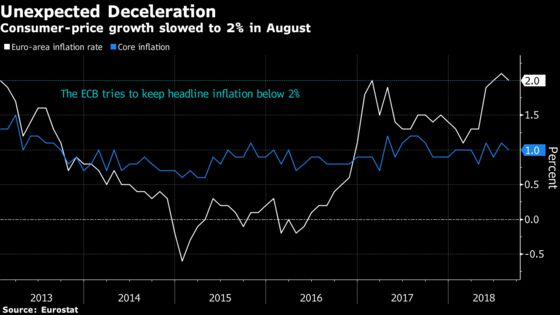 Inflation rates have leaped toward the European Central Bank's goal of just below 2 percent in recent months on the back of higher energy prices, but underlying price pressures are still subdued and only building gradually. After recording the fastest economic growth in a decade in 2017, momentum has moderated this year and uncertainty around the outlook has risen.
"The ECB is unlikely to be worried about today's figures," according to Commerzbank AG economist Christoph Weil. "It seems certain that increasing wage growth will sooner or later also boost inflation."
The euro was little changed after the report and traded at $1.1670 at 11:45 a.m. Frankfurt time.
| National Inflation Data | Actual | Survey | Prior |
| --- | --- | --- | --- |
| Germany | 1.9% | 2.1% | 2.1% |
| France | 2.6% | 2.5% | 2.6% |
| Italy | 1.7% | 1.7% | 1.9% |
| Spain | 2.2% | 2.3% | 2.3% |
While unemployment stood at 8.2 percent in July, the lowest in almost a decade, economic confidence slipped to the weakest in a year this month as businesses and consumers fret over international trade tensions and political instability in Italy.
In the U.S., President Donald Trump has all but declared the European Union his next target for new tariffs -- despite an agreement to work amicably toward new rules of engagement. ECB Governing Council member Olli Rehn on Friday pushed back against "regrettable" tendencies to escalate trade woes, saying in a Bloomberg interview that he hopes "this unnecessary rhetoric would cease."
In Italy, concerns over fiscal policy have triggered a spike in bond yields and a discussion about how the market rout will affect ECB policy. Council member Ewald Nowotny has suggested it won't impact plans to end bond buying this year. Policy makers will halve monthly net purchases to 15 billion euros ($18 billion) in October and stop adding to holdings at the end of the year.
At their July meeting, officials reiterated their confidence in the economy and the path of inflation, even though they noted "prominent" uncertainties related to protectionism. The ECB stuck to its guidance that interest rates wouldn't rise "at least through the summer of 2019."