ECB's Rehn Rebuffs 'Regrettable' Trump Accusations on Trade
(Bloomberg) -- European Central Bank policy maker Olli Rehn hit back against U.S. President Donald Trump's accusation that Europe is manipulating its currency and is "almost as bad as China" on trade.
"It's very regrettable that from the U.S. side there is a tendency to escalate the trade war, especially with China but also with Europe," the Bank of Finland governor and former European Union commissioner said in a Bloomberg Television interview on Friday. "I don't find it very serious to compare Chinese and European trade policies."
Tensions seem set to flare up again after Trump cast doubt on the longevity of the truce he agreed with European Commission President Jean-Claude Juncker in late July. In a Bloomberg interview, the U.S. president also likened the euro to China's currency, which he claims is manipulated to disadvantage American companies and undermine his efforts to right global trade imbalances.
"The ECB certainly is not manipulating the euro," Rehn said. "My reading of the Chinese situation is that in fact the Chinese yuan has been weakened mainly because of the threat of escalation of the trade war, not because of manipulation from the central bank. Quite actually to the contrary."
Rehn also said that the trade spats have so far had a "rather limited" impact on the economy, but that could change as consumer and business confidence declines, hurting employment and growth prospects.
"I very much wish that this unnecessary rhetoric would cease and we would not try to escalate the wars," he said.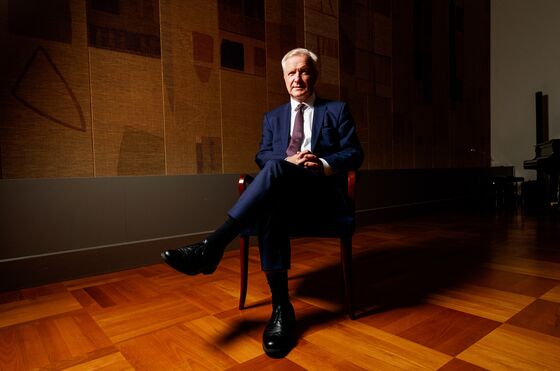 Responding to Trump's threat to pull out of the World Trade Organization if it doesn't treat the U.S. better, Rehn reaffirmed Europe's commitment to reforming the Geneva-based body, and said a U.S. withdrawal would "damage the liberal international order and the foundations of world trade, free and fair trade."
Rehn, 56, took charge of the Finnish central bank in July, making him the newest member of the ECB's policy-setting Governing Council. He said he's satisfied that investors are accurately interpreting officials' guidance that interest rates will remain on hold at least "through the summer" of 2019. Market expectations are that the first hike will come late next year.
Despite his relative lack of central-banking experience -- he only joined the Bank of Finland's board in 2016 -- Rehn is touted as a potential successor to ECB President Mario Draghi, whose term ends in October 2019. A Bloomberg survey of economists this month showed him ranked fifth in a tight race behind Erkki Liikanen, the previous Finnish governor, and the heads of the French, Irish and German central banks.
"Let's not jump the gun," Rehn said when asked if he might want the job. "I assume every governor of a euro-area central bank would be honored to serve as president of the ECB if asked and appointed, if duty calls."