What Happened This Week in the World Economy and What It Means
The U.S. and Mexico had a loose handshake on a new Nafta, and the White House is scrambling to bring Canada aboard while trade talks with China stall. Argentina and neighbors remain in economic chaos, and globalists and populists are doing battle across Europe.
Here's our weekly wrap of what's going on in the world economy.
Donald Trump is sounding more serious about applying tariffs on $200 billion in Chinese goods next week, and also said he's mulling a U.S. withdrawal from the World Trade Organization. Earlier this week, the U.S.-China stalling had taken a back seat to the White House's agreement "in principle" with Mexico on a replacement to Nafta. With quite a bit of work to be done, the fresh agreement would look a lot different from the two-decade-old deal. It's erasing some uncertainty in Mexico's outlook, but Nafta 2.0 might not get Trump any closer to fulfilling job and deficit pledges, and Mexico says there's still no way the deal pays for a border wall. There are still plenty of risks in the Nafta end game. Trump is optimistic that Canada will join the party in time to meet an end-of-week deadline, and here's a deeper look at Canadian Foreign Minister Chrystia Freeland, a key player in those talks.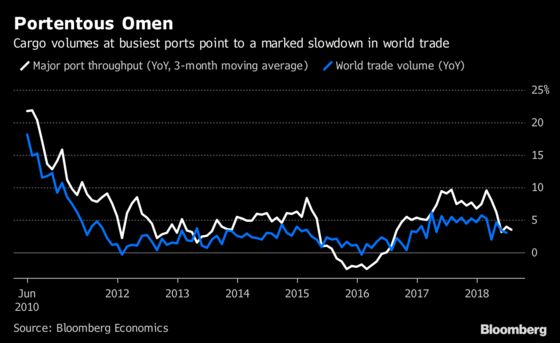 GLOBAL INSIGHT: Three Ways to Look at Trade Outlook – None Good
Swine Fever, Flooding Raise Concerns Over Higher China Inflation
Argentina is crashing back into the kind of financial turmoil that its market-friendly government had supposedly left behind. The central bank raised rates to a global high of 60 percent on Thursday, a day after President Mauricio Macri shocked the country with an appeal for quicker payouts from the International Monetary Fund. It's not clear if either measure will be enough to halt a run on the peso. Soup kitchen lines are expanding in Brazil, with the economy suffering ahead of the October election. We continue to log the chaos in Caracas, this week focusing on life without water. Turkey's central bank reintroduced limits on interbank lending amid their crisis.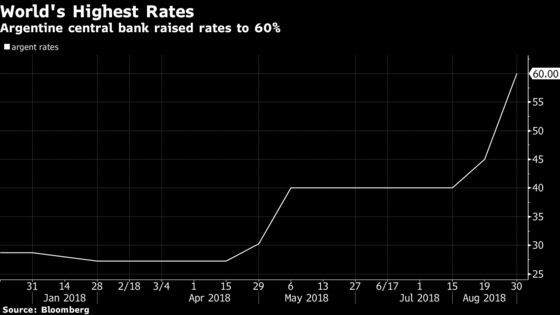 TURKEY INSIGHT: Counting the Cost of FX Debt – 0.8% of GDP
There was more mulling than moving this week in central banks, with a Brussels-based think tank suggesting they should think more about profits. Federal Reserve watchers scored another "star" measure and Fed economists explored the yield curve further. At least one Bank of Japan member is warning that its easing policy could prompt some uncontrolled side effects. In South Korea, the central bank held pat amid a murky jobs outlook. The Bank of Canada sees caution in rate increases from the digital revolution, but the overheating economy tests policy makers' patience. The Bank of Thailand sounded less hawkish this week while also signaling an end-of-year move, and Bank Indonesia pledged to press on with rate hikes despite election uncertainty.

In personnel news, Richard Clarida was confirmed as Fed vice chairman, Mark Carney's future again took the spotlight amid all the talk of a no-deal Brexit, and we charted the contenders for the next ECB chief.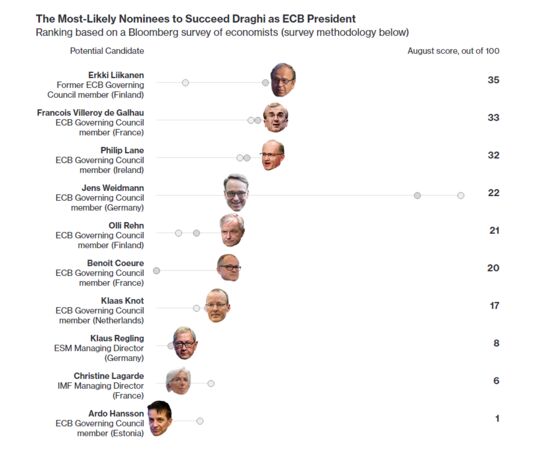 Costa Rica's Oxford-Trained Bank Chief Warns of Dire Situation
INDIA INSIGHT: RBI Basically Hung Rupee Out to Dry in EM Selloff
Italy's threatening to veto the EU budget, feeling shunned, while Finance Minister Tria promises the new government isn't looking to breach EU deficit limits. Here's a handy guide to all of Italy's budget battles. The U.K. and EU are said to drop their October Brexit deadline, but Angela Merkel is staring down a busy September for the bloc and pushing for more globalist assertiveness. In France,  President Emmanuel Macron's labor overhauls will need time to take effect and a historic income-tax change may also be delayed.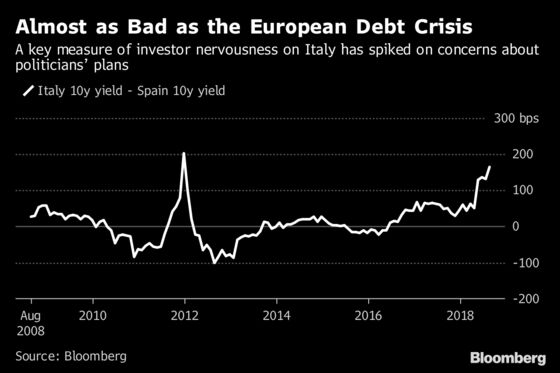 Denmark Plans New Immigrant Worker Push Amid Labor Shortage
Powell's Nod to Greenspan Sparks Dove Debate: Eco Research Wrap